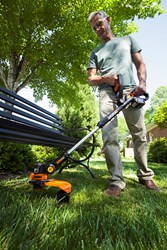 The WORX 32V Max Lithium Trimmer cuts a 12 in. swath and weighs only 6.2 lbs., which is 25 percent lighter than most gas trimmers.
Charlotte, N.C. (PRWEB) July 23, 2013
The 32V Max Lithium GT 2.0 trimmer cuts a 12 in. swath and weighs only 6.2 lbs. (with battery), which is 25 percent lighter than most gas trimmers. The trimmer's telescoping shaft conveniently adjusts to the user's height. An adjustable rubber-coated front-assist handle provides comfort and control.
There's never any need to buy and store gasoline, add oil, or change a spark plug or filters. Forget the pull-cord; just squeeze the trigger and start trimming.
The head of the trimmer tilts 90°, which allows the user to trim underneath decks, shrubs and other obstructions. Its tilting shaft also is handy when trimming overgrown drainage ditches, berms and other varied terrain. This helps prevent gouging by simply adjusting the shaft's angle to match the slope of the terrain. No other brand of trimmer offers this feature.
The 32V Max Lithium trimmer also has an adjustable spacer guard. When extended, the spacer guard helps protect flowers, shrubbery, tree trunks, plants and yard ornaments from damage while trimming.
The trimmer converts into a wheeled, walk-behind edger with a simple twist of the cutting head. Instead of free-form edging, the GT trimmer incorporates a pair of wheels to help guide the operator along edges for a uniform, professionally manicured cut. When not in use, the wheels can be removed.
When the trimmer's wheels are placed in the mini-mower position, it cuts narrow grass strips separating houses, between bushes, under picnic tables, on berms and other hard-to-reach areas. It trims consistently at an optimum 3 in. cutting height for grass.
The trimmer operates at a no-load speed of 8500 rpm, driving the durable line (0.065 in, diameter) through grass, weeds and light brush. An automatic line feed ensures there's plenty of line to get the job done.
The trimmer also features a quick-change, snap-in spool system, and includes three free spools. Once the tool is registered, the owner is eligible for free spools for the life of the tool and pays only for postage.
The 32V trimmer has earned the right to bear the Energy Star label. Products with the Energy Star label are considered eco-friendly, help prevent global warming and promote cleaner air.
The WORX 32V Max Lithium GT 2.0 Grass Trimmer/Edger (WG175, $149.99), includes one 32V Max Lithium battery pack, an Energy Star rated three-hour charger, wall mount accessory and three spools of line. It's available at http://www.worx.com.