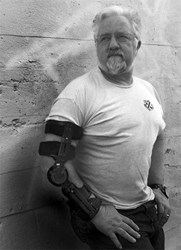 I met many people who didn't come home. I also met people who never left and through one misadventure or another, couldn't find their way home.
Holbrook, New York (PRWEB) July 23, 2013
Author Baer Charlton's upcoming novel "Stoneheart" brings to life the many challenges faced by a medically-retired Marine who returns stateside.
In an exclusive interview with national non-profit World T.E.A.M. Sports, Charlton reports his novel, to be released in October by Ambrosia Arts, offers insight into the struggles disabled veterans undertake when returning home following their service. Often, this experience is traumatic and isolating.
Growing up with a father who served with the Army Corp of Engineers during World War II, Charlton's uncles include Navy and Marine Corps veterans. "My oldest brother was Army in Vietnam, and I was slated for the window seat on a fast attack sub. I know a lot about the disappointment of a medical discharge."
Like most authors, Charlton writes about what he knows, and what he has learned through life. "When I was a kid, I worked with a dishwasher," he recalls. Having survived the Bataan Death March and held in a World War II prisoner of war camp, the dishwasher and his best friend "tried with everyone else to rush the front gate and escape. The Japanese turned the large radar on them. Many didn't survive. Those that did, had their brains or insides scrambled or cooked. These two guys were top of their class to be PhDs in chemical science, and astro physics. When I knew them, their combined brain power barely would have hit 90."
As he grew older, Charlton reports he worked in several fields. "I met many people who didn't come home," following their service. "I also met people who never left and through one misadventure or another, couldn't find their way home."
"In college, I repaired wheelchairs, including my own when I spent a year with both Achilles' tendons torn in a skiing accident. I learned a lot from being seated, and watching people that knew me well, walk past and not even see me."
The California native reports he has disabilities that affect him to this day. "Operating on only one lung, legs I really can't feel, and a mind that can and does freeze up, the only thing people are aware of are the braces on my arms - the least of my altered abilities. But they do give me a certain caché and even disarming entré to speak to others in braces, or in a chair or even deaf or other altered abilities. With each new person I meet, it adds a little piece to my soul, and gives me more understanding."
In Charlton's novel, protagonist Gunnery Sergeant Percival Stone manages PTSD and TBI from engagements in wars and conflicts worldwide. Traveling the country by motorcycle, Stone visits colleagues he served with overseas in a series of encounters that lead to the story's dramatic conclusion on the southern Oregon coast.
"Stone is the kind of guy you wanted for your squad leader, your dorm's Resident Assistant, the cool older guy that lived at the end of the block you grew up on who tinkered in his garage and didn't mind you hanging around and asking stupid questions," said Charlton. "Stone is also that person you hear stories about who sees the little old lady counting pennies over her lunch, and takes the check from the waitress and pays for it. He says don't tell her until he's gone. Stone is the guy or gal we need more of."
Charlton said he created his story to be about the people. "We don't 'get' people if we just watch them do something. The only time we really learn about a person is when we experience them doing something, or listen to them talk."