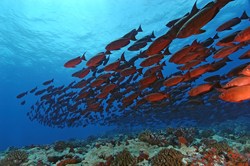 "This is nothing more than fishing for data with a preconceived conclusion." KC Craichy, Founder & CEO, Living Fuel
Orlando, Florida (PRWEB) July 25, 2013
The media and health circles are abuzz about a recently published study that reportedly links intake of fish oil and a higher risk of prostate cancer. Before we ignore years of clinical research and a mountain of studies supporting the remarkable health benefits (including anti-cancer properties) of Omega-3 and fish oil, let's look more closely.
"As a health researcher and author of three books on diet, nutrition, and performance," KC Craichy said, "I've learned that healthy skepticism is important when analyzing medical studies and evaluating the subsequent reporting in the news."
The retrospective study by Theodore Brasky, PhD, reviewed a previous study on synthetic vitamin E and selenium on their effect on prostate cancer. Dr. Brasky followed the same patients for a few years, then took a serum omega 3 count. That test shows what the omega 3 level is for that moment. If a person had a fish dinner the evening before taking the blood test, it could dramatically change the omega 3 level. The conclusion of the study was that those with higher omega 3 levels had a higher risk of prostate cancer. However, nobody in the study group had high omega 3 levels. All of them had low omega 3 levels based on scientific standards.
"It would be about a third of what we would recommend," Craichy said. "The ones they talked about being 'higher' omega 3 were 0.18% than the controls. So, this is not statistically significant by any measure."
Craichy added that it was an inappropriate conclusion from an inappropriate test. He pointed out that the levels of omega 3 are very important and are 'protective' in a mountain of research.
"When you get a wild study conclusion like this, the media is complicit when they just take the author's conclusion and they run it as the headline," Craichy said.
Japan is one of the largest fish-eating societies in the world. A study done there looked at 45,000 men eating omega 3. The study found that while prostate cancer was slightly higher in earlier analysis, it was attributed to better test methods and thus researchers were finding it earlier. The fascinating finding was regarding death from prostate cancer. The number was not higher than before indicating that omega 3, which is well known to block metastatic spread of cancer, had a significant positive effect.
The people in Dr. Brasky's study were not in a study designed to analyze omega 3 levels, plus none of the participants were adequately screened to find if they already had prostate cancer when they were enrolled into the study.
Many credible health science organizations and experts have posted rebuttals to Dr. Brasky's study, including the Alliance For Natural Health USA, William Faloon, Luke Huber, ND, MBA, Kira Schmid, ND, Blake Gossard, Scott Fogle, ND, and Denise Minger.
About KC and Monica Craichy
KC Craichy is the bestselling author of Super Health: 7 Golden Keys to Unlock Lifelong Vitality and The Super Health Diet: The Last Diet You Will Ever Need! KC Is also the Founder and CEO of Living Fuel, Inc.—The Leader in Superfood Nutrition. He is a health advocate, researcher, and recognized expert on natural health and performance nutrition. His extensive study of leading-edge health research and collaborative work with top medical and nutritional practitioners and researchers to solve his wife Monica's health problems—anxiety, depression, and suicidal thoughts—along with the grace of God, led him to the answers for Monica's healing and to the founding of Living Fuel, Inc. As a result of overcoming this health crisis, KC and Monica have helped numerous people become overcomers in their own health situations. Together, they are now cohosts of the popular Internet TV program called LivingFuelTV.
KC is committed to changing lives through multimedia, super health lifestyle education combined with super healthy, high impact superfoods. He also serves on the Nutrition Advisory Board for Titleist Performance Institute as well as on the Clinical Nutrition Review Board (the certifying body of the International and American Association of Clinical Nutrition). A frequent natural health and performance nutrition guest on various TV and radio programs as well as a frequent contributor to national magazines and blogs, KC lives in Orlando, Florida, with his wife, Monica, and their five children.