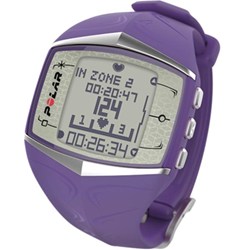 Unisex watches are out, not even considered, because we wanted lightweight, small wrist fit and function that compromised nothing
Bozeman, MT (PRWEB) July 23, 2013
The best women's heart rate monitors for 2013 have been named by the Heart Rate Watch Company for style, fit, weight and function.
"Unisex watches are out, not even considered, because we wanted lightweight, small wrist fit and function that compromised nothing", says Rusty Squire, President of the Heart Rate Watch Company. "Super comfortable flex fabric straps was also necessary to make the cut".
Women's Heart Rate Monitor
"The new Polar FT60 in lilac was our favorite heart rate monitor because of the high level of integration with gym equipment, the most comfortable strap and its accuracy with calories", says Squire.
Women's Running GPS
The Polar RCX3 GPS is a great choice for running because it is super light, small and the GPS rides in a small clip on your waist band according to Squire. "Weight on your wrist makes a huge difference running because of arm swing; the weight is active", says Squire.
Women's Cycling GPS
The Garmin Forerunner 610 Multicolor is our favorite cycling heart rate monitor. "Vibration alerts, pacing features, cadence sensor compatibility and the smaller form factor with touchscreen make this watch our absolute favorite, my wife took mine and I've never seen it again", chuckles Squire.
Women's Triathlon GPS
The Polar RCX5, especially the red version, would be the best choice for women triathletes. "The watch is light and the detached GPS can be clipped to shorts or jersey pockets, plus this watch gets heart rate in the water", says Squire.
While there are lots of GPS watches on the market today, screening them for women very quickly narrows the field according to Squire. "Nano technology has not gotten nano enough for women but we are very confident these watches will do the trick", says Squire.