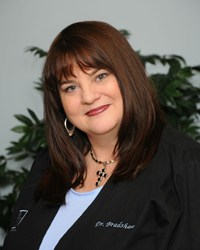 The Woodlands, TX (PRWEB) July 22, 2013
Patients seeking gum disease treatment or an alternative to periodontal surgery can turn to Dr. Gayle Bradshaw for laser gum surgery. The Laser Assisted New Attachment Procedure (LANAP) is minimally invasive and can save teeth that might have been lost after traditional periodontal surgery. Patients whose teeth cannot all be saved can still enjoy other benefits of LANAP, including an improved chance of subsequent dental implants being a success.
LANAP departs from traditional surgery in a few notable ways. The procedure is effective because it exclusively targets gum disease, causing no harm to the surrounding teeth or gum tissue. Patients who were wary of gum surgery will appreciate that LANAP generally causes minimal pain and isn't disruptive to the patient's life. Patients at risk of losing teeth will have a better chance of keeping those teeth after the treatment. Following traditional periodontal surgery, the loss of gum tissue can leave teeth more exposed and vulnerable to bacteria or infection. LANAP does not cause these negative side effects. The laser used during the procedure also stimulates the bone, promoting growth, which is beneficial for teeth that are close to being lost.
In the event that a patient has already lost teeth, or if even with LANAP some teeth cannot be saved, patients who have received the laser gum surgery will still be better prepared to receive implants. The implants are more likely to be successful if all gum disease has been eradicated, and patients who have had gum disease removed with LANAP may be ready to receive subsequent treatments sooner. By saving gum tissue, LANAP also makes patients better candidates for receiving implants.
Dental implants, in turn, offer patients long-term benefits that other tooth substitutes do not. Implants are actually anchored in the bone, so they stimulate it and prevent the loss of bone density that would otherwise occur. Implants look and feel more like real teeth to patients.
Patients with gum disease and need implants should consider receiving LANAP from Dr. Bradshaw. Patients are encouraged to visit Dr. Bradshaw's website to learn more about how laser gum surgery and implants can treat gum disease and prevent further tooth and bone loss.
About the Practice:
Bradshaw Periodontics is a periodontal practice offering patients personalized dental care for The Woodlands, Texas since 1998. Dr. Gayle Bradshaw graduated Magna Cum Laude in 1994 from The University of Texas Health Science Center San Antonio Dental School. Dr. Bradshaw and her family moved to Houston to complete her Master's Degree in periodontal surgery at The University of Texas Dental Branch where she completed her studies in 1998. In 2000, she earned her Board Certification from the American Board of Periodontology. Dr. Bradshaw is part of one percent of dental professionals providing the most recent FDA cleared laser procedure for gum disease and periodontal treatment. To learn more about Bradshaw Periodontics and their dental services visit their website at http://www.bradshawperiodontics.com and call (281) 377-8409.