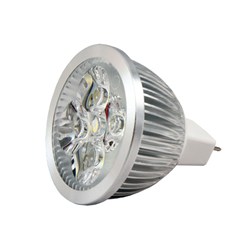 An LED light selling for less than a halogen light bulb was unthinkable two years ago
Los Angeles (PRWEB) July 24, 2013
Online lighting retailer, WholesaleLED.com announced that the price of its "Culver Series" LED MR16, a type of bulb often used in track lights, will now be as low as $4.95 per bulb, making an LED light less expensive than equivalent halogen bulbs available at many home department stores and retailers for the first time.
"An LED light selling for less than a halogen light bulb was unthinkable two years ago," says Josh Futterman, a lighting specialist for WholesaleLED.com. "LED MR16s were selling for as much as $25 each, an 80 percent price reduction."
LED lights have been growing in popularity as consumers sought ways to lower their electric bills. While LED lights have been known to reduce lighting bills by 80 percent or more, the upfront investment has deterred many customers from purchasing them.
WholesaleLED.com says that the inexpensive four watt Culver Series MR16, which replaces a 30W halogen bulb, will now allow consumers to spend up to 80 percent less on electricity for lighting, but without paying more than what it would cost to buy many halogen bulbs.
WholesaleLED.com also carries a complete line of PAR20, PAR30 and PAR38 LED lights, all available at wholesale prices.
The LED MR16 is now available for sale on http://www.WholesaleLED.com