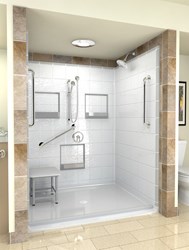 Turn a regular low threshold shower into a wheelchair accessible shower.
New York, NY (PRWEB) July 23, 2013
A company that's dedicated to bathroom safety, Aging Safely Walk In Bathtubs announces the Lifetime Shower System. This incredible product can transform traditional glass door showers into wheelchair accessible handicap shower systems.
Just because a wheelchair accessible shower is required, it doesn't mean customers have to invest in a brand new one. The Lifetime Shower System is designed to turn a regular low threshold shower, into a shower that's easily accessible. It is important to notate however, this unique retrofit package is not available with the walk in bathtubs offered by Aging Safely.
Being able to safely access a shower or bathtub isn't something most people think about every day. Although the elderly and people with disabilities sometimes have a substantial fear of falling in the tub. With bathroom safety products, homeowners can potentially have extra confidence while they're enjoying a bath. Being able to feel a sense if independence is important, especially when it comes to person hygiene.
According to the company, clients can also decide to add padded seats with legs. These special seats are compliant with ADA standards and can offer bathers a place to rest while taking a shower. There are several large and small roll in shower models available that can be installed into residential and commercial locations. Customers can also select hand held shower wands that can come on slider bars to make accessibility as easy as possible.
Finding detailed information on aging in place products for the bathroom isn't always an easy task. Fortunately, this useful eCommerce platform specializes in very unique low step in bathtub and shower products. The company offers a wide variety of brands and offers customers one on one customer service to assist with purchases.
Aging Safely specializes in hydrotherapy walk in tubs, transfer bathtubs, wheelchair access roll in showers and safety grab bars. Shoppers from the U.S. and Canada can order these specialty appliances online. The website is packed with important step in tub information such as schematics, measurements, options and high resolution photographs. In addition, there is no cost shipping to deliveries located within the continental U.S.
Contact Information:
Zach Wennstedt
info(at)Walkbathtubs(dot)com
720-495-5497
http://www.walkbathtubs.com