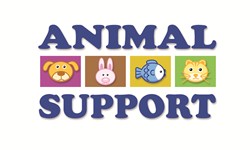 Los Angeles, California (PRWEB) July 30, 2013
The Paw Project thanks Animal Support and its co-founders Julian Omidi, Dr. Michael Omidi and Maria Abaca for sponsorship of their goal to end the practice of feline declawing. Approximately 25 percent of domestic cat owners declaw their pets, unaware of the permanent disfigurement and pain it causes their cats.
"The Paw Project focuses on the overall support and well-being of animals. They make sure that the quality of life for these animals is at its absolute best," says Dr. Jennifer Conrad, wildlife veterinarian and founder and director of the Paw Project. "We would like to thank Animal Support for assisting us in our mission to spare these animals from inhumane and unnecessary declawing procedures."
While many pet owners believe declawing is a simple procedure that prevents cats from harming other pets and furniture, it is actually a major surgery involving the removal of the last joint of the paw, which would be the same as having the tips of your fingers and toes removed. In order to completely deactivate the claw, the bone is removed, resulting in disfigurement of the paw and, oftentimes, permanent discomfort and difficulty walking. Declawed cats are often rendered emotionally unstable after the practice due to the constant pain, and are disproportionately abandoned due to their resulting behavioral problems.
The Paw Project works with veterinary students to ensure that they are fully cognizant of the permanent damage declawing causes the animals. The Humane Society of the United States also does not approve of declawing and the practice is illegal or is considered unethical practice in many nations around the world.
Animal Support (http://www.animalsupport.org) is dedicated to addressing pet over-population and abuse by promoting charities working on behalf of animal well-being. The organization was founded by brothers Dr. Michael Omidi and Julian Omidi along with long-time friend Maria Abaca to advocate for animal protection, rescue, adoption, and spay and neuter laws. Animal Support does not accept donations but encourages direct contributions of money and talents to the charities and organizations featured on our website. For more information about Animal Support, send a message using the website's Contact Us function, check out Animal Support on Facebook, Twitter, Google+, and Pinterest.
The Paw Project (http://www.pawproject.org) is a 501(c)(3) nonoprofit advocacy group that works to end the practice of declawing through education and legislation. By persuading city officials in California that the declawing procedure is cruel and abusive, the Paw Project led the efforts to pass legislation banning domestic cat declawing in eight California cities, as well as outlawing the declawing of captive wild and exotic cats in the entire state. The Paw Project recently produced a documentary film depicting the practice of declawing and their efforts to prohibit declawing against the opposition of veterinary organizations.