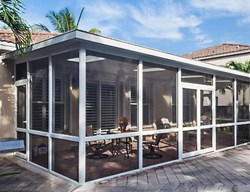 Have your patio screen enclosure engineered to convert later to a sunroom, when the family budget allows.
MIAMI, FL (PRWEB) July 24, 2013
Miami homeowners who need more living space can get it more affordably if they opt for a screen enclosure rather than a fully insulated room, says Chris Noe, president of Venetian Builders, Inc., Miami.
Noe offers some tips on considering a screen room for at least some outdoor space.
"A Miami screen enclosure is virtually a year-round room because of the climate that far south," Noe says. "Very few days of the year in Miami are so cold that being outdoors is undesirable."
A pool screen, similarly, gets more use in Miami than it would in cities farther north, Noe said. "Most pools have decks, and often they are adjacent to the house itself. In many cases, a swimming pool screen enhances poolside activities as much as it does swimming."
Although pool screens are almost exclusively screened on top as well as on the sides, a patio screen usually incorporates a solid roof that shelters users from sun and rain, not just from insects.
"If you add power to an insulated patio roof, you can incorporate ceiling fans and lights," Noe noted. "The lights make night use more versatile, and with proper screening, you won't make yourself a human sacrifice to bug bites and stings."
Without solid walls, a patio screen allows cooking out and dining al fresco, Noe pointed out.
"The technology of aluminum framing saves money in materials and labor, and it allows an aluminum room to go up faster than a room built by traditional methods," Noe said. "That means a homeowner will probably get into his screened space faster than he expected, and for less money."
Noe suggests a compromise for homeowners who might want a Miami sunroom but don't want to take on too much debt all at once. "Have your patio screen enclosure engineered to convert later to a sunroom, when the family budget allows," he said. "Because the aluminum framing will be designed to handle extra weight, conversion essentially is a matter of adding windows, increasing power outlets, and adding climate control. The roof will already be in place."
Acrylic windows cost less than glass and can open to screens, making the sunroom conversion multi-functional, Noe said. "You'll still have your screen room during mild weather, but you can close the windows when it's too hot or cold to be comfortable. The windows also remove easily for storage before hurricanes, reducing the likelihood of damage."
Venetian offers free in-home consultations with curbside display of its mobile showroom. Estimates are free, detailed and written.
For more information, call 866-596-2427.