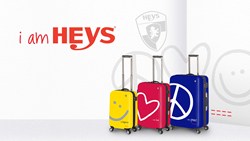 We are not here to make business," said CEO of Heys USA Harry Sheikh. "We are here to change the world.
Weston, FL (PRWEB) July 23, 2013
HEYS USA The Art Of Modern Luggage, the world leader in travel merchandise, has recently joined forces with Peace Love World and is proud to announce the release of their most optimistic line of luggage to date. Set to release in Fall 2013, the Peace Love World collection will allow travelers to carry the message of positivity and peace to any Worldwide destinations.
The collection will be available in three and four piece sets, all offered in a variety of colors and styles. The "I am Complete", "I am Travel", and "I am Peace Love World" sets all carry unique aesthetic qualities while still keeping with Peace Love World's vision of peace and positivity. Utilizing ultra-lightweight polycarbonate composite technology, Heys USA continues to create light and durable luggage that is backed by a seven-year warranty.
"We are not here to make business," said CEO of Heys USA Harry Sheikh. "We are here to change the world."
In keeping with Peace Love World's theme of happiness and peace and Harry Sheikh's vision, Heys USA has also teamed up with the Gift of Life Foundation, donating luggage to this good cause. Gift of Life is dedicated to providing cardiac surgeries to children from around the world. Through the Gift of Life Foundation, Heys USA was given the opportunity to touch the life of three-year-old Ferdinand—affectionately nicknamed AJ—who was born with a large hole in his heart, a condition known as Ventricular Septal Defect. AJ arrived to the United States from his home in the Philippines to receive emergency open-heart surgery, which was sponsored by the Patterson Great Falls Rotary Club. AJ survived his surgery and recovered wonderfully; Heys USA was ecstatic to send him home healthy and with brand new luggage.
About HEYS USA
Heys USA has been at the forefront of the travel goods industry for 27 years, with technological innovations and inspirational fashion-forward designs. One of the world's most recognized designers and distributors of hardside luggage. Heys USA sells their products under a number of well-known brand names such as Heys USA, Travel Concepts, Crown Collection, and licensed brand names such as Disney, Britto and Fazzino Collections.