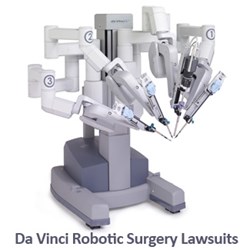 If you or a loved one has been injured by a da Vinci surgical robot contact Wright & Schulte LLC, a leading medical device injury law firm today at 1-888-365-2602 or visit www.yourlegalhelp.com
Columbus, OH (PRWEB) July 23, 2013
The Da Vinci robot surgery complication lawyers at Wright & Schulte LLC are disturbed by a recent report from Bloomberg.com that detailed a U.S. Food & Drug Administration (FDA) warning letter received earlier this month by Intuitive Surgical Inc., the manufacturer of the Da Vinci Surgical System. The FDA letter, dated July 17th, asks Intuitive to take additional steps to resolve two issues the agency observed during a recent inspection of the company's headquarters. According to the FDA, that inspection revealed that Intuitive Surgical did not adequately report Da Vinci Robot System corrections and patient adverse events.
[bloomberg.com/news/2013-07-18/intuitive-surgical-
declines-on-warning-letter-from-fda.html July 2013]
Wright & Schulte LLC is now offering free personal injury lawsuit consultations to victims of alleged Da Vinci robotic surgery complications, including those who suffered:

Tears and/or burns of the intestines
Punctured blood vessels
Punctured and/or cut ureters
Severe bowel injuries
Vaginal cuff dehiscence
Excessive bleeding
Surgical burns
Sepsis
Peritonitis
Death
For more information on filing a Da Vinci Robotic Surgery lawsuit, or to arrange for a free legal consultation, please visit yourlegalhelp.com.
According to a recent NBC News report, the Da Vinci Surgical System was used in 400,000 operations last year, including hysterectomies, prostate surgeries and heart surgeries. Advocates for robotic surgery claim that such procedures result in minimal bleeding, fewer and smaller scars and faster recovery times. However, according to the Bloomberg.com report, a review of FDA adverse event reports shows injuries involving the Da Vinci robot surgery procedures doubled in the first six months of 2013 compared with a year earlier. The FDA is now surveying doctors to determine if the spike in da Vinci surgery complication reports could indicate that there is a problem with the technology.
[rockcenter.nbcnews.com/_news/2013/06/14/18958967-robotic-surgery-is-high-tech-tour-de-force-but-is-it-safe?lite, NBC News, June 10, 2013]
According to Bloomberg.com, the FDA warning letter followed the agency's issuance of a 483 inspection report on May 30th. Among other things, that report cited Intuitive Surgical for failing to inform the FDA of a customer warning it issued in October 2011 regarding a problem that had been associated with reports of da Vinci surgery complications.
In a recent filing with the U.S. Securities and Exchange Commission (SEC), Intuitive Surgical disclosed that it had been named in 26 Da Vinci surgical robot lawsuits that allege a variety of serious injuries, including surgical burns, organ and tissue damage, and torn blood vessels. According to court documents, patients in those lawsuits say they suffered a number of serious da Vinci surgery complications, including surgical burns, organ and tissue damage, and torn blood vessels, in procedures with the robot.
[sec.gov/Archives/edgar/data/1035267/000119312513162385/d508282d10q.htm, Intuitive Surgical, April 19, 2013]
About Wright & Schulte LLC
Wright & Schulte LLC, an experienced personal injury firm, is dedicated to the belief that America's legal system should work for the people. Every day, the attorneys of Wright Schulte LLC stand up for the rights of people who have been injured or wronged, and fight tirelessly to ensure that even the world's most powerful corporations take responsibility for their actions. If you're looking for a law firm that will guarantee the aggressive and personal representation you deserve, please do not hesitate to contact Wright & Schulte LLC today. Free Da Vinci robotic surgery complications lawsuit case evaluations are available through yourlegalhelp.com, or call 1-800-399-0795.
Contact:
Wright Schulte LLC
812 East National Road
Vandalia, Ohio 45377
1-800-399-0795
http://www.yourlegalhelp.com