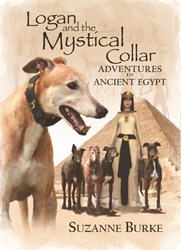 (PRWEB) July 23, 2013
On Saturday, August 3 from 12:00 PM – 1:00 PM, Ms. Burke will be appearing at the bookstore in the main branch of the Dallas Library at 1515 Young St – called BookEnds, to promote her newly released book, Logan and The Mystical Collar. Children and adults are invited to attend and meet a certified therapy greyhound.
Logan and The Mystical Collar by Suzanne Burke is an exciting time travel adventure story set in Ancient Egypt.
This well-researched period novel combines an accurate historical lesson with an outrageous story line the reader is sure to remember! The novel allows readers to go back in time with Logan and experience Ancient Egypt through the eyes of the world's oldest dog breed! Readers accompany Logan on his journey as he overcomes bullying and develops leadership skills, all while changing the course of history.
Logan time travels to Ancient Egypt where he joins a cast of interesting greyhounds and human characters familiar to him, yet he can't understand why they don't know him. There, he meets a famous Egyptian queen, an imposing bully, and a crafty wizard who guide him through adventures and unleash secrets he must guard with his life.
Readers are then treated to additional chapters with fun facts and history about Ancient Egypt, and greyhounds – one of the oldest and most intriguing breeds in the world. And like the first book, Logan's Secret in the Greyhound Stories book series, Logan and The Mystical Collar offers educational projects for children to stimulate creative writing, expanded vocabulary, and critical thinking skills.
"Logan's exciting adventure to Ancient Egypt deals with the sensitive topic of bullying and in an educational and fun way helps children to understand both sides of the issue," says author Suzanne Burke, "and the life lessons Logan and his friends teach in this historical journey are worth sharing with readers – especially children." Ms. Burke adds, "It's also my hope that readers will want to learn more about this wonderful breed of dog and consider adopting one of the many retired racing greyhounds needing a forever home."
Limited autographed copies will be available with a percentage benefiting the Greyhound Adoption League of Texas (GALT). Learn more at http://www.greyhoundstories.com/logan-and-the-mystical-collar/.