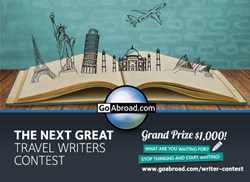 Do you have what it takes to become GoAbroad's Next Great Travel Writer? Get started writing today!
Fort Collins, CO (PRWEB) July 24, 2013
GoAbroad.com is in search of the best travel writers. The Next Great Travel Writers Contest was recently launched, which offers students, alumni, professionals, and travelers the chance to be featured on the leading online directory for meaningful and alternative world travel.
Those who submit their travel stories will also be entered for a chance to win a grand prize of $1,000 to be put towards their next travel experience. Second and third place prizes include a $200 and $100 award, respectively.
All entrants that are selected as contest winners will also receive a biography within their published article, and the chance to get their work seen by a broad international audience. The GoAbroad online communities encompass more than 67,000 world travelers, and with over a million visitors to GoAbroad each month, this is an opportunity not to be missed.
Preferred authors for this contest are those who have actually been to the places, or experienced the events they are writing about. GoAbroad is looking for interesting, colorful, and precise details that show a knowledge or experience of the place or activity featured in the article!
The Next Great Travel Writers Contest will run from July 1, 2013 until October 31, 2013 at 11:59 MST. Winners will be announced on Monday, November 4, 2013.
All entries are required to be emailed to writers(at)goabroad(dot)com. Entrants should review the Contest Entry Guidelines for details of what to include in this email entry.
Click here to read more about the Next Great Travel Writers Contest Guidelines.
About GoAbroad.com
GoAbroad.com has been the web's premier resource for meaningful international experiences and alternative travel opportunities for fifteen years, providing the most up-to-date and accurate information on programs available worldwide. From GoAbroad's GoMedia services, which offer a distinct range of internet marketing solutions for international educators, to the prestigious GoAbroad Innovation Awards, and the newest initiative - FundMyTravel - an online crowd funding site to help students raise money for meaningful travel experiences (http://www.fundmytravel.com), the GoAbroad team is dedicated to providing the most comprehensive resources to the field of international education.