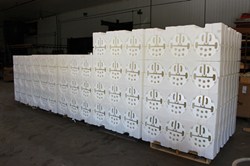 All Natural Freshness Stackable Tolling Pallet Solutions eliminates bottlenecks in the supply chain so as to bring you the maximum HPP throughput, while maintaining the highest level of compliance with all food safety regulations
White Pigeon, MI (PRWEB) July 23, 2013
HPP is a new technology that uses a cold-water pasteurization technique to make a product safer, healthier, and more shelf stable. HPP doubles or triples a food products shelf life. HPP decreases the risk of e. coli, salmonella, and listeria by up to 99.999%. HPP enables food processors to remove high amounts of sodium from their products.
High Pressure Processing demand is growing rapidly (Source: BevNet). When a company implements a new food processing technology two things must occur; 1) the new installation must be able to meet current production volume; 2) time to implementation must take as little time as feasible. Currently in the HPP industry, there are two phenomenon's contrasting these requirements. A new High Pressure Pasteurization implementation can take up to 9 – 12 months. Further, food processors implementing HPP globally are finding that HPP production throughput is not in alignment with their existing production volumes.
All Natural Freshness HPP Stackable Tolling Pallet Solution reduces time to market between 83% and 87% versus the competition. "All Natural Freshness has developed Stackable Tolling Pallet Solution that provides ultimate scalability. Food processors now have the ability to instantly match their production volume with their HPP throughput. When production demands increase adding new HPP capacity through the Stackable Tolling Pallet Solution is low cost and instant. The Stackable Tolling Pallet Solution can be implemented in a food processors facility in just six weeks from order," states Gerald Ludwick, CEO of All Natural Freshness.
Compact, flexible, scalable HPP Solution:

ANF has created an affordable polyethylene Basket Pallet that is light weight and durable. Products are loaded directly into baskets from food processing production line and from there directly onto the Basket Pallet.
Basket Pallets are secured with a nylon or metal band and loaded into a truck. The pallets are 49" and can be stacked 2 high to maximize freight transport.
At the High Pressure Processing (HPP) Tolling Center, the pallets are unloaded, and also equipped with steel casters at each end of the conveyor for inter-facility handling allowing companies to eliminate double and triple handling.
The products in the basket pallets will be secured and loaded into a truck, then ship to distributors and warehouse in the same processing day.
All Natural Freshness' Stackable Tolling Pallet Solution is suitable for both food processors and HPP tollers, is noninvasive to a company's existing production environment and easily integrates into a facilities existing food production flow.
Increased customer safety, increased food quality, increased productivity and innovation are of the utmost importance in the competitive landscape of today's global food supply chain. "All Natural Freshness Stackable Tolling Pallet Solutions eliminates bottlenecks in the supply chain so as to bring you the maximum HPP throughput, while maintaining the highest level of compliance with all food safety regulations," states Jurhs, VP of business development.