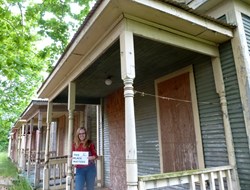 I want to prove that demolition isn't the only choice for downtown improvement.
Boulder, Colorado and Shreveport, Louisiana (PRWEB) July 24, 2013
Saving small houses is going to take a big plan, but that plan is coming together in a new downtown revitalization partnership in Shreveport, Louisiana. The energy level is high as Adventures in Preservation (AiP) joins Norla Preservation Project to save six historic shotgun houses and restore them for use by small businesses.
In April 2013, Kelly Rich called the City of Shreveport's Department of Community Development to inquire about a group of boarded and abandoned shotgun houses on the outskirts of downtown. Their reply of, "Those are scheduled to be demolished next month," grabbed her attention and became the catalyst for the formation of the nonprofit Norla Preservation Project (Norla).
Norla's mission is promoting the practice of repurposing instead of demolishing historic buildings. Their proposal to the city outlined the creation of a commercial development using the small community of shotguns. The Department of Community Development expressed interest in the idea and joined the effort to find available land near downtown as a new home for the houses.
Kelly Rich went from private citizen to Director of Norla in the blink of an eye and set to work fundraising and generating support. One of her first requests for assistance and guidance went out to Adventures in Preservation. AiP's nonprofit business model is based on providing enriching experiential travel opportunities for preservation-minded adventurers, who work alongside community members to save valuable heritage.
"Twenty years ago, this neighborhood had 200+ shotgun houses. Now we're down to only a few blocks. I want to prove that demolition isn't the only choice for downtown improvement. This is a perfect opportunity to save examples of our cultural heritage and transform them into something new and unique," says Kelly Rich.
AiP and Norla are developing a plan to bring university students and citizen preservationists together to receive training in hands-on preservation techniques. Preservation experts and craftspeople will then lead the trainees in restoring the houses. The Shreveport Tourism Bureau is also joining the effort, coordinating a memorable schedule of activities outside of work hours so those involved in the project will get a real sense of all that Shreveport has to offer.
The current timeline shows fundraising and development through the winter, with hands-on preservation work beginning in March of 2014. AiP and Norla are actively seeking funding and support for the project. Contact Adventures in Preservation or Norla Preservation Project if you would like to be involved in this project as either a sponsor or a trainee.
Adventures in Preservation (AiP) is a non-profit organization connecting people and preservation through enriching experiential programs that safeguard cultural heritage and foster community sustainability. AiP travelers have the opportunity to travel, experience their destination, and learn hands-on skills from experts while assisting communities in saving their historic resources. Learn more about AiP's "Heritage travel with purpose" at http://www.adventuresinpreservation.org.