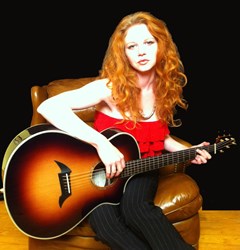 The Hillbilly Culture Club was a good, honest testing ground for our educational programs designed to help songwriters foster sustainable careers in the new music business
Nashville, TN (PRWEB) July 26, 2013
Tuesday, July 30th is the date of the next monthly member performance night for the Songwriting and Music Business songwriting community. Held every last Tuesday of the month as part of James Breedwell's regular Tuesday writers' nights at Dave and Buster's located in the Opry Mills Mall, the Songwriting and Music Business members always bring out the best that emerging original music writers have to offer.
"We're right here in the shadow of the Mother Church," says organizer, Amanda Williams of the monthly event. "Where better to try out our new original tunes than right across the street from the Grand Ole Opry?" says the fiery haired founder of Hillbilly Culture LLC, an enhanced music publishing company, and the first of its kind.
Williams points to the history of the Grand Ole Opry, drawing original talent from the mountains of East Tennessee, her native homeland. "Nashville didn't create country music," laughs Williams, "she just did a good job of letting people know about it."
Early Opry acts such as the Carter Family and Jimmie Rogers came straight from the Appalachian mountains, not a stone's throw from the hometowns of many of the performers who make the monthly pilgrimage to Nashville to share their original tunes.
"We started out calling ourselves the Hillbilly Culture Club," says Williams of the songwriting community she has curated for the past three years. "It was a good, honest testing ground for our educational programs designed to help foster sustainable careers in the new music business."
Now three years and hundreds of members strong, the small group once called Hillbilly Culture Club is taking the stage in a bigger arena, the global music community.
"We've set some important legal precedents for songwriters in the field of music publishing. After all, in the music business, almost everything is negotiable," winks Williams.
Come check out the next Hillbilly Culture Club slash Songwriting and Music Business community performance night on Tuesday, July 30th 8PM to 10:30PM at Dave and Buster's Opry Mills located at 540 Opry Mills Drive Nashville, TN - 37214 or visit http://songwritingandmusicbusiness.com.