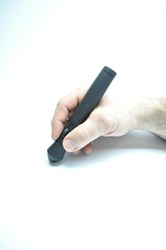 "It's amazing how natural and intuitive the gStick is to use, compared to a normal mouse. The gStick's ergonomic design lets me move the cursor across the screen with a flick of the wrist!"
- Kerby McGhee, Artist at 8th Design
Anchorage, Alaska (PRWEB) July 24, 2013
GNOV8 TECH has launched their new mouse technology on Kickstarter. The innovative gStick mouse is held like a pen and allows the user to control their computer with comfort with its ergonomic design and rolling ball tip. The gStick is wireless and has 1200dpi and scrolls on a mouse pad. It's also so compact, the user can stick it in their front pocket for mobility.
"It's amazing how natural and intuitive the gStick is to use, compared to a normal mouse. The gStick's ergonomic design lets me move the cursor across the screen with a flick of the wrist!" - Kerby McGhee, Artist at 8th Design
The gStick mouse is held like a pen and has left/ right click buttons, a scroll wheel and works on a mouse pad. It's wireless, "plug and play" and comes with a micro USB dongle; just plug it in and it's ready to use for PC's and Macs. Creative entrepreneur, Gordon Stewart wanted a better mouse to create with, so he invented the gStick.
"In 2009, I was trying to sign a contract online with my mouse and decided I wanted a better, inexpensive alternative. I wanted a mouse I could be more creative with that used a mouse pad to move on and that I could hold like a pen." -Gordon Stewart, gStick creator.
The GNOV8 team has 8 BETA testers using the gStick and they are excited with its performance. It has been tested for games like MINECRAFT, StarCraft and the programs Photoshop, Illustrator, Google SketchUp, Polyvore, Ebay, Youtube and FaceBook.
"...Very natural to use. Became almost second nature in minutes while playing Minecraft. It will be epic with Starcraft." - Reeve Byrne, Minecraft enthusiast, BETA tester.
The gStick uses one AAA battery which will last 3-5 months, depending on use. The battery loads into the back end of the gStick, much like a flashlight. The front cap that encloses the rolling ball can be removed for easy cleaning. The gStick uses a tiny USB dongle to connect to the computer. A Bluetooth version is also planned and may become part of the current Kickstarter project as a stretch goal.
The gStick will be available in RED, WHITE, BLUE, BLACK, YELLOW, PURPLE AND ORANGE. It's available now for pre-order for $35 and will ship to customers in November, just in time for Christmas. After the Kickstarter project, it will be available on Amazon and other retailers for $79.
GNOV8 is a technology design company and was Founded by Gordon Stewart, who also created the SpaceBook, dual-screen laptop. Gordon is currently negotiating with three American PC companies regarding a global co-brand deal for the SpaceBook series of dual-screen notebooks.