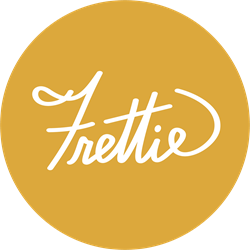 I never had a place to put my music... so I thought it would be cool to have a sort of songwriting circle online.
Columbus, OH (PRWEB) July 25, 2013
There's a new kid on the songwriting block, and their name is Frettie.com.
So, what makes Frettie.com different from other songwriting websites? Well, for one thing… it's free.
For another thing, it's not run by professional songwriters, or former record company executives, or people who used to work for large songwriting organizations; it's owned and operated by a couple of web designers with a passion for songwriting.
Frettie.com is the brainchild of husband and wife entrepreneurial team, Dennis and Julie Field of Columbus, Ohio.
"I just love songwriting," said Dennis on a recent phone conversation. "I wanted to provide a place where people could collaborate and get some feedback on their songs without any pressure."
"We wanted Frettie to apply the lessons we learned doing our design work to the songwriting paradigm," says Dennis. "The more people you can engage with while you're working on your design, the better your final product ends up being. We figured songwriting would be the same. Why not get feed back as you're creating your song and see if that helps come up with a better tune?"
Talking with Dennis about Frettie, it's obvious that he's in this for the love of it.
Like many of us songwriting enthusiasts, he started writing when he was twelve years old.
"I never had a place to put my music," said Dennis. "So, Julie and I thought it would be cool to have sort of a songwriting circle online."
Frettie.com is selective about who comes on board. The site is specifically geared toward people who are taking their songwriting seriously, and who have a basic understanding of the tools of the trade.
In order to ensure a supportive community atmosphere, Frettie is set up as an invitational only site. Current members can invite their friends to join the community, or interested folks can request an invitation code from Frettie.com by providing a link to their music online.
The Songwriting and Music Business community is happy to be a referring organization for Frettie. "We feel that having access to another online community will provide additional exposure and opportunities to our family of members, and that our educational platform will be a great resource for their folks," says founder Amanda Williams.
Want to learn more about getting your music on the Frettie site? Check out http://Frettie.com and request an invitation code.