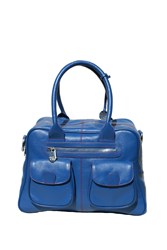 London, England (PRWEB UK) 23 July 2013
Luxury leather changing bag manufacturers, Lin & Leo, is releasing a special limited edition of its iconic BabyBag in Royal Blue to commemorate the birth of HRH, the Prince of Cambridge.
The Royal Blue BabyBag is perfect for stylish mothers looking for a practical changing bag for all their baby's essentials while still retaining their personal style and love of high quality products. The classic Royal Blue leather is a sleek, modern alternative to black and the contrasting red top stitching gives a real patriotic burst of colour.
The BabyBag is crafted out of premium fossil leather with a beautiful jacquard lining and wipe clean changing mat which features the same design. Designed to be compact and easy to carry, the BabyBag has both internal and external pockets to carry everything from a change of clothes and bottles to mum's iPad, purse and keys. The bag, with its lack of bulk and gorgeous lines, is also designed to be a 'bag for life', meaning it will serve as a handbag long after babies and toddlers are out of nappies.
Jason Collison from Lin & Leo said: "We wanted to create this Limited Edition BabyBag to commemorate this incredibly special occasion with a product that would appeal to mums looking to emulate Kate's classic style.
"Our original BabyBag is renowned for its high-quality materials and classic design that is both multi-functional and stylish perfect for busy mothers, just like Kate."
The Lin & Leo BabyBag is also available in five other colours: black, tan, turquoise, red and a new addition to the collection, chocolate brown.
Both the Royal Blue and the chocolate brown BabyBags will be available to pre-order within the next few weeks from the Lin & Leo website, with both new arrivals due mid-August.
~ends~
For images of the Lin & Leo Royal Blue BabyBag, Please see below:
http://www.lexiconpr.net/LinLeo/L&L_RoyalBlue.jpg
http://www.lexiconpr.net/LinLeo/L&L_RoyalBlue_CloseUp.jpg
http://www.lexiconpr.net/LinLeo/L&L_RoyalBlue_Lifestlye.JPG