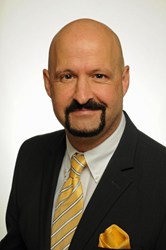 "If you want to get a better result, you've got to stand apart from everyone else and work smarter, innovate."
(PRWEB) July 31, 2013
Michael Mayher is proud to announce the recent endorsement of his Career Quest-related book by Dr. Ben Carson.
Dr. Carson, best known as a Neurosurgeon at the Johns Hopkins Hospital, an author and public speaker, is also involved in encouraging and helping young people through the Carson Scholarship Fund, founded in 1994. Of Michael Mayher's book, Dr Carson's endorsement states:
"Your Career, What's Next?" combines many years of experience with job placement by the author, with a great deal of common sense and wisdom to provide job seekers with a great deal of practical advice that is bound to enhance their pathway to success. I recommend it highly for both college graduates and high school graduates who are seeking a fulfilling career."
When asked, Michael Mayher stated he is very proud to receive the endorsement from a man with the character and level of accomplishment of Dr. Benjamin Carson MD. Mayher went on to suggest that, regardless of a person's own level of experience or to what level they aspire, they will benefit from learning something new in his book, which contains the best practices and experience he continues to share on a regular basis with good results in this current and challenging jobs market. "If you want to get a better result, you must stand apart from everyone else and work smarter; innovate."
For a preview of his book go to: http://yourcareerquest.blogspot.cz/p/book_21.html
About the Author:
Michael Mayher began his headhunting career in 1992, residing in North Carolina and placing professionals nationwide. In 2001, he relocated to Europe and continues to represent both client companies and accomplished professionals. He is based in Prague, Czech Republic. With over 20 years of experience on two continents as a direct search recruiter, he has amassed a unique level of expertise few others can claim.
Michael writes recruitment industry–related articles and he is a lecturer to MBA, university–level business and human resource management students. He is committed to helping people improve their ability to have more influence on their career circumstances. Prior to his career in sales and recruiting, Michael served for 11 years as a Non–commissioned Officer, U.S. Army Paratrooper, Airborne MP (118th ABN MP Company), Airborne Scout (LRS) and 11th Grp Special Forces Reserve. Originally from Cleveland, Ohio and, later, Fort Bragg and Raleigh, North Carolina, Michael is an American of Czech and Slovak heritage. He lives in Prague, Czech Republic.
To read Mayher's latest blog entry and ask career questions please visit his website at: http://yourcareerquest.blogspot.cz/2013/07/resignation-prep.html