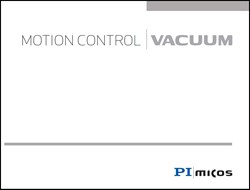 Vacuum environments are required for many of today's leading edge applications in fields as diverse as semiconductor technology, beamline-instrumentation, scanning electron microscopy, X-ray spectrometry, high energy physics, astronomy / aerospace.
Auburn, MA (PRWEB) July 23, 2013
The vacuum motion control catalog can be downloaded here:
http://www.pi-usa.us/pdf/index.php?onl_prw_vac
PI and PI miCos provide extensive expertise in designing, manufacturing and preparing precision positioning systems for vacuum. Motorized linear stages, rotation stages, piezo positioners and actuators as well as 6-axis parallel kinematic positioners (hexapods) are offered in different levels of vacuum preparation, from fine vacuum (10-3 torr) to UHV (10-10 torr).
In addition to product specifications and drawings the catalog also explains the technical terms, the different preparation steps and the equipment used for testing.
PI miCos manufacturs both standard vacuum positioners and complex custom motion systems for extreme applications, such as found in beamlines and synchrotrons are also available.
For more information and an overview of vacuum compatible products click here:
http://www.pi-usa.us/products/precision_positioning_pi-micos/Vacuum_Precision_Positioning_Stages_Mc.php?onl_prw
About PI / PI miCos
The PI group provides the most Consider extensive and comprehensive portfolio of precision motion technologies in the world, from micropositioning to sub-nanometer precision positioning equipment. The strategy of vertical integration has allowed PI to control all critical components of its positioning systems and provide outstanding standard and OEM products for many decades. PI is present worldwide with 10 subsidiaries, R&D and engineering on 3 continents and total staff of 750+.