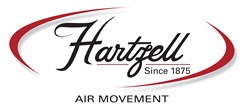 "...The process is inherently safer and cleaner than other paint lines and the paint covers our products better, even in tiny crevasses as well as around edges."
Piqua, OH (PRWEB) July 25, 2013
Hartzell Air Movement is now offering powder coated products! The addition of their new paint booth will increase product consistency and quality control. This new process is also safer on the environment compared to liquid paints since it does not contain any solvents. Powder coating is universally accepted and specified as the Best Available Control Technology (BACT) to reduce air pollution. Tom Gustafson, Chief Technology Officer comments, "Our powder coat paint booth has many advantages. The process is inherently safer and cleaner than other paint lines and the paint covers our products better, even in tiny crevasses as well as around edges."
The new paint booth also improves production efficiency because it has a quicker curing process. Powder coating does not involve additional pre-mixing, stirring, solvent additions, or viscosity adjustments, which means less product variation and better control over quality. Sean Steimle, President of Hartzell Air Movement explains, "This curing and cross-linking process bonds the powder coating to the surface of the substrate and creates a very durable and long-lasting finish. Our fans are installed in very corrosive environments and we are constantly looking into ways to increase the lifespan of our fans for our customers."
Hartzell Air Movement is a leading manufacturer of industrial air moving solutions to a variety of markets throughout the world. The company manufactures in Ohio, Indiana, and Singapore. Hartzell has been in business since 1875.
If you would like more information on Hartzell Air Movement products, please visit http://www.hartzellairmovement.com or contact your local field sales representative.