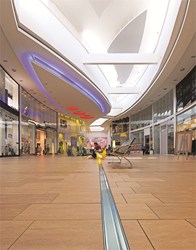 This is just one more step on our journey to eliminate chemicals of concern...
Muncy, PA (PRWEB) July 24, 2013
Construction Specialties Inc. (C/S), a leading manufacturer of high-performing architectural products, has increased its number of expansion joint cover (EJC) product offerings that are third-party certified for material health and sustainability. EJC products are aluminum covers that can be used on wall and floor expansion joints for both seismic and standard building movement applications, and depending on the model, accommodate joint widths up to 16".
In the recent certification series, thirteen EJC models achieved Cradle to Cradle Certified(CM) Silver and six additional models earned Cradle to Cradle Certified(CM) Gold, bringing the total number of certified models in the division to twenty. With the addition of the newly certified products, C/S can now boast it has the highest number of Cradle to Cradle Certified(CM) Gold products. The company worked closely with McDonough Braungart Design Chemistry (MBDC) to evaluate product life cycles and assess all chemical ingredients down to 100 parts per million for impacts to human and environmental health. C/S has made a commitment to design products that contain no materials of high risk to people and the planet, and the EJC products certified at the Gold level have met that high bar.
Cradle to Cradle Certified(CM) is a multi-attribute program that assesses products for safety to human and environmental health, design for future use cycles, and sustainable manufacturing processes. Products are evaluated for material health, material reutilization, renewable energy use, water stewardship, and social responsibility. The program provides guidelines to help businesses implement the Cradle to Cradle® framework, which focuses on using safe materials that can be disassembled and reused as technical nutrients or composted as biological nutrients.
"We are proud to offer this industry-leading product certification to our customers," Gabe Blasi, EJC general manager said. "This is just one more step on our journey to eliminate chemicals of concern and provide for a healthier built environment."
Adding further importance for engineers, designers and building contractors seeking green building recognition, the U.S. Green Building Council recently endorsed the Cradle to Cradle Certified(CM) program by integrating it into LEED® Version 4. Upon implementation, projects can earn up to two LEED® points for the use of products that have achieved certain Cradle to Cradle Certified(CM) levels.
C/S has manufactured expansion joint covers for over 45 years and invented most of today's seismic, thermal and wind-sway expansion joint cover technology. In 1983, it developed the first fire barrier system for expansion joints and has made continual advancements in its design ever since. The extensive line of products includes architectural expansion joint covers, as well as parking and specialty seismic joint systems. C/S partners with architects and engineers during a building's design phase to share expertise and ensure the correct covers are chosen for every unique project.
For more information about Construction Specialties, visit http://www.c-sgroup.com and Twitter @csinconline.
###
About Construction Specialties
Construction Specialties manufactures and sells specialty architectural products internationally, with over 30 offices and manufacturing facilities worldwide. Its products include interior wall and door protection, entrance flooring, expansion joint covers, louvers, grilles, sun controls, explosion vents, smoke vents, and cubicle track/curtains. The company serves architects and designers, building owners, facility managers and contractors. Construction Specialties, Inc. was founded in 1948 and is headquartered in Lebanon, New Jersey.
About McDonough Braungart Design Chemistry
McDonough Braungart Design Chemistry, LLC is a consulting firm that regenerates economy, environment, and equity by helping organizations integrate the Cradle to Cradle® framework into their strategies, operations, and products. The Cradle to Cradle® design framework is outlined in the books Cradle to Cradle: Remaking the Way We Make Things and The Upcycle: Beyond Sustainability--Design for Abundance by William McDonough and Michael Braungart. For more information visit http://www.mbdc.com.
Cradle to Cradle® and C2C® are registered trademarks of McDonough Braungart Design Chemistry, LLC.
Cradle to Cradle Certified(CM) is a certification mark licensed by the Cradle to Cradle Products Innovation Institute.