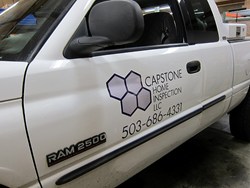 "Our company logo is displayed in our lobby and looks professional and the quality is outstanding!"
Lake Oswego, OR (PRWEB) July 29, 2013
Full size custom banners and brand-specific graphics for work vans or trucks are now offered through Creative Safety Supply. Display images or graphics for company safety programs or picnics on banners or turn a service van into a moving advertisement with vehicle decals.
Creative Safety Supply can create custom images and graphics and print high-quality signage that is both professional and durable enough to withstand outdoor weather and even the inclement environment of some production facilities. Advertising can become expensive but Creative Safety Supply makes it affordable for companies to display messages that can represent their business.
Custom dimensional letters for interior use are individual 3D letters, logo, or symbols made from a variety of materials. The final result can be wall mounted and used in a front lobby or reception area displaying a company's logo. Smaller dimensional letters can be used for a variety of purposes, including office nameplates, facility marking, door marking, etc. A business owner commented, "Our company logo is displayed in our lobby and looks professional and the quality is outstanding!"
Vehicle decals can turn a car, delivery truck or service van into a moving advertisement. Custom fleet graphics can mobilize a company's brand with customized vinyl vehicle decals. Whether it is displayed on a car, truck, van, or even on a boat, these graphics will showcase a business wherever it goes. The auto decals will advertise a business services, display products, and will represent a business in parking lots, roads, and on the highway.
Customized, industrial strength banners can be tailored to specific needs for use indoors or outdoors. They are resistant to water, UV, and most chemicals and greases. Three standard sizes are available or custom sizes can be designed for individual or unique applications. Banners are made of 13 oz. scrim material and are pre-grommetted for convenience.
For more information about Large Format Printing, please visit Creative Safety Supply or call toll-free (866)777-1360 to speak with a professional representative.