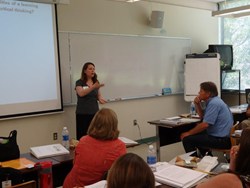 The Sierra College ACTivATE project is training instructors to create applied critical thinking lessons and hands-on assessments.
(PRWEB) July 24, 2013
In response to the growing demand for graduates with critical thinking skills, the Sierra College STEM Collaborative established an innovative professional development program -- [Applied Critical Thinking for Advanced Technological Education (ACTivATE)
In June, faculty from Northwestern Searle Center for Advancing Learning and Teaching trained 12 Sierra College and high school faculty to develop curriculum that incorporates applied critical thinking. Through a National Science Foundation (NSF) grant, Enhancing Critical Thinking in STEM Disciplines: A Faculty Development Model, the Searle Center designed, piloted and studied a Science, Technology, Engineering and Mathematics (STEM) faculty development program focused on improving higher order learning outcomes of STEM students.
On many levels, Sierra College's approach is groundbreaking according to Denise Drane, Associate Director, Searle Center for Advancing Learning and Teaching, Northwestern University. "Applied critical thinking has rarely been addressed in faculty development programs at the high school level," said Drane. "And students are rarely asked to demonstrate a deeper understanding of critical thinking in an applied setting. In addition, the relationships that Sierra College and high school instructors have with employers are uncommon in education."
Through the Sierra College workforce development programs, the need for critical thinking was uncovered, explained Carol Pepper-Kittredge, Director, Center for Applied Competitive Technologies (CACT). "The strong ties that Sierra College has with employers will lead to the incorporation of current, workplace applications into critical thinking lessons. Faculty will be able to use real examples from local businesses," said Pepper-Kittredge, who manages the Sierra College STEM Collaborative.
For the next nine months, the ACTivATE project will support participants as they develop new approaches to overtly teach applied critical thinking in their classrooms. Instructors will also develop and pilot test hands-on demonstrations to assess students' understanding and align with the new Common Core State Standards.
"ACTivATE coaches will offer one-on-one support to faculty throughout the project," said Pepper-Kittredge. The Sierra College STEM Collaborative will hold two additional ACTivATE professional development sessions for participants in 2013-14. Findings and applied critical thinking lessons will be published at the conclusion of the project.
A pioneering aspect of the ACTivATE project is that it includes a mix of math, English and Career Technical Education (i.e. welding, media, pre-engineering and Mechatronics) instructors at the high school and college levels, sharing ideas to create lessons that stimulate deeper learning.
"Those who teach technical education courses seem more in-tune with critical thinking because so much trouble shooting is already part of what they teach," said Drane. "During training, the instructors demonstrated an eagerness to share ideas, challenges and feedback across their disciplines and institutions."
Drane explained that teaching critical thinking skills has been focused primarily at the college level and incorporated almost exclusively into theoretical courses. "Critical thinking should be developed across all disciplines and stages of education to better prepare students for college and careers," said Drane.
About Sierra College STEM Collaborative
The Sierra STEM Collaborative is funded by California Community College Chancellor's Office, to create a pipeline of students interested in technical careers. Students can pursue Welding, Mechatronics, Engineering, Energy Technology and Drafting & Engineering Support at Sierra College For information about the ACTivATE professional development project, go to http://www.appliedcriticalthinking.com or contact Carol Pepper-Kittredge, Sierra College at (916) 660-7801.