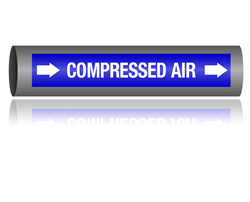 "Our facility requires unique contents that flow through our pipes. We were able to customize our own labels and we were pleasantly surprised to receive them the very next day."
Lake Oswego, OR (PRWEB) July 30, 2013
When pipes are not properly marked, people can get injured if they don't know the contents. Pipe marking stickers are a quick cost effective way to make professional looking durable pipe marking labels. Creative Safety Supply is now offering a variety of pre-printed pipe marking stickers for convenience that will clearly distinguish the pipe's contents and flow of direction.
OSHA A13.1-1996 standards mandate that pipes be properly marked. Creative Safety Supply has a huge inventory to meet most specific needs. Most common and widely used are the compressed air labels, acid waste, city water, and fire sprinkler. These labels are made from industrial indoor and outdoor vinyl that resists water, chemicals, UV exposure, smearing, and smudging. They are designed to last 5-7 years outdoors and even longer indoors. Minimum application temperature is 40 degrees and will withstand service temperatures of -25 degrees to 210 degrees. Labels are available with left and right direction flow arrows and can be applied to clean, dry surfaces with easy and quick installation. Small or large jobs can be completed in a matter of minutes to an hour.
Custom printed labels can be made with a text or image at no extra charge. All custom stickers comply with the most recent ANSI/ASME A13.1 2007 standard. The labels are printed on a UV protective tape that has a permanent acrylic adhesive that will guarantee the pipe's identification will never disappear or fall off after time. A facility supervisor commented, "Our facility requires unique contents that flow through our pipes. We were able to customize our own labels and we were pleasantly surprised to receive them the very next day."
For more information about Pipe Marking Stickers, please visit Creative Safety Supply or call toll-free (866)777-1360 to speak with a professional representative.