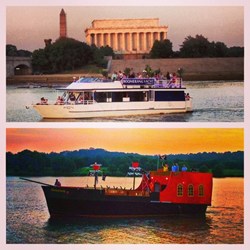 Washington, D.C. (PRWEB) July 24, 2013
Celebrating its 7th year in business, Boomerang Tours, Inc. has served as Washington, D.C.'s most unique party transportation and travel company, offering vineyard tours, concert transportation, DC nightlife tours, tubing trips, party yacht and pirate ship Potomac River cruises.
Boomerang Tours, Inc., was founded in the spring of 2006. The company was created by a motivated Washingtonian couple who were determined to deliver an exciting atmosphere to customers while providing safe and affordable transportation. Quickly becoming a favorite DC Nightlife activity, Boomerang added a bus to its fleet each year while increasing its list of nightlife and excursion event throughout the D.C. area.
The fleet of five Boomerang Buses, along with one Boomerang Limousine, travel to Virginia wineries for vineyard tours, the Shenandoah River for tubing trips, FedEx Field for Redskins games, and to upcoming concerts such as Jimmy Buffett and Dave Matthews Band at Jiffy Lube Live. Their regular DC nightlife tours occur every Friday and Saturday evening.
In March of 2012, the Boomerang continued to expand by introducing the Boomerang Party Yacht, an 80 passenger, 65 foot double-decker yacht which provides the best views of DC's monuments from the Potomac River. The Boomerang Party Yacht is cruising 6 days a week and is available for private charter and public cruises. Cruises include sunset sails, night time party sails, brunch cruises, and more.
The Boomerang Pirate Ship is the latest addition to the Boomerang Boat fleet. It is equipped with water cannons and is the talk of Washington, D.C.'s boating community. The 90-passenger vessel was built on Maryland's Eastern Shore specifically for the Boomerang fleet. With fire engine red sleek paint and the true pirate sails, the Boomerang Pirate Ship is a 'must-do' for locals and visitors in Washington, D.C. The Ship is cruising 6 days a week with family fun treasure hunt cruises in the day time, followed by adult pirate party cruises in the evening.
Both vessels board passengers at the Georgetown Waterfront at Washington Harbour located at 3100 K Street NW Washington, D.C.
For more information about Boomerang Tours, Inc. and our upcoming events, visit our calendar of events at http://www.zerve.com/boomerang/calendar. For more information about the Boomerang Pirate Ship, visit our newest website at http://www.boomerangpirateship.com.
About Boomerang Tours, Inc:
Boomerang Tours, Inc. is a leader in Washington D.C.'s nightlife industry, providing Party Bus, Party Yacht and Pirate Ship excursions to the locals and visitors in the Nation's Capital.