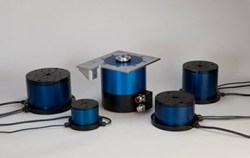 San Jose, CA (PRWEB) July 25, 2013
Prime Drives, LLC is introducing its new line of user-customizable Direct Drive Servo Motors. The DS series offers customer choices that include customer selectable motor windings, various feedback devices including resolvers, encoders or simply hall-effect sensors. Customers can select the encoder resolution and determine final product cost and configuration by limiting resolution in applications which do not require 3 arc-sec repeatability and thus reducing cost of the Direct Drive System. Customers also can select motor windings which enables designers to select a low-cost DC servo controller/amplifier packages which further reduce system costs. Engineers can determine that a 220-440 VAC servo amplifier is required for higher speed and current. In either case, Prime Drives offers options for customers to use meet the unique requirements of their application.
Prime Drives also packages the DS Series of Direct Drive Servo offerings with digital controller/amplifier packages to satisfy the need of for single sourcing of the entire system. Customers can use a packaged digital drive amplifier for a Direct Drive Servo application or use our family of digital drives which range from 24-196 VDC or our 220-440 VAC higher power packages; all designed to meet the customer's systems parameters. Information listed on Prime Drive's website provides further details on Direct Drive speed/torque curves, motor packaging options as well as unique solutions not readily available in today's marketplace.
Prime Drives specializes in providing Direct Drive Motors that fit the unique requirements of a customer's application. The DS series of Direct Drive Motors provides a baseline for customers to customize a solution for their application. Customers can decide to use a larger thru-hole, a specific winding to match their voltage and amplifier needs. Many of Prime Drive's customer base will modify the motors housing the maximize weight goals or to provide additional surface area for heat dissipation.
About Prime Drives:
Prime Drives is a US based manufacturer of Direct Drive Servo Motors. Their design improves design efficiency and productivity of complex machines by allowing engineers to choose basic options within the motor parameters specific to their design needs. For more information, contact Prime Drives via phone at 775-333-5984 or visit the company website at http://www.primedrives.com.