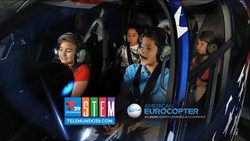 Grand Prairie, Texas (PRWEB) July 23, 2013
American Eurocopter, the largest producer of civil and commercial helicopters in the U.S., has joined forces with a group of Dallas/Fort Worth television stations to support a public interest campaign aimed at creating interest among youth in rewarding career opportunities in fields requiring science, technology, engineering and math (STEM) education,
American Eurocopter is the first Dallas/Fort Worth area corporation to join with the NBC 5, Telemundo and COZY stations to promote math and science education. All three stations are part of NBCUniversal.
"American Eurocopter signed on as a sponsor for this campaign because we believe it is crucial for industry to play an active role in promoting career opportunities that await young people who pursue an education in the areas of science, technology, engineering and math," said Marc Paganini, President and Chief Executive of American Eurocopter.
"In order to be successful in the highly competitive global markets, American Eurocopter and other companies that produce and market complex, highly technical products must be able to recruit young people with strong education and training in these fields. We want to help make today's youth aware of the potential for great, rewarding futures."
Businesses in North Texas and beyond have critical needs now and in the future to recruit more employees in fields requiring STEM-related education and skills, said Scott Saldinger, business development account manager for NBC 5, who helped launch the campaign after talking with numerous business leaders about the issue.
"We are raising awareness, but this problem will not be solved overnight and it won't be solved by just one person," Saldinger said. "Preparing and training the country's future scientists and engineers will require a concerted effort and long-term commitment from all of us."
In addition to American Eurocopter, Texas Workforce Solutions and the American Airlines C.R. Smith Museum are backing the effort. NBC 5 is recruiting additional companies and nonprofit organizations to be sponsors.
A commercial now airing features children of American Eurocopter employees excitedly discussing the future design of helicopters. Ads are also appearing on the COZI cable channel and Spanish-language spots will air on Telemundo.
This summer, NBC 5 plans to shoot a series of public service announcements, which will feature American Eurocopter and be aimed at parents, educators and students.
"We are thrilled that American Eurocopter shares our vision and belief that this is an important cause," said Nada Ruddock, NBC 5's director of community affairs. "We are all stakeholders in this. We all need scientists and engineers."
About American Eurocopter
American Eurocopter is the U.S. affiliate of Eurocopter, the largest helicopter manufacturer in the world, and a subsidiary of EADS North America Holdings, the North American operations of EADS, a world leader in aerospace, defense and related services. American Eurocopter is a helicopter manufacturer and markets, sells and supports the broadest range of civil and parapublic helicopters offered by any manufacturer. The product line represents the most cost-effective, technologically-advanced helicopters, ranging from light single to heavy twin aircraft, serving all markets and missions. American Eurocopter's headquarters and main facility are in Grand Prairie, with a large manufacturing and production facility in Columbus, Miss.
For more information, please contact:
Brenda REULAND
Office: (972) 641-3679
Mobile: (214) 616-6597
brenda.reuland(at)eurocopterusa(dot)com
Bob COX
Office: (972) 641-3525
Mobile: (972) 213-2038
bob.cox(at)eurocopterusa(dot)com