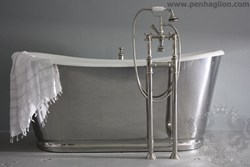 Some of our customers have described them as works of art and we couldn't agree more.
(PRWEB) July 25, 2013
Baths of Distinction is pleased to announce that it is now carrying the full range of specialty vintage cast iron clawfoot tubs and French Bateau tubs from Penhaglion. Penhaglion beautifully crafts each artisan-finished tub and offers unique finishes not offered by other manufacturers. Its 'Natural' range allows proud owners to see every mold and production mark of their own unique bathtubs. Due to the very nature of cast iron chill casting, no two tubs will be identical but each will display Penhaglion's unmistakable high quality.
The exterior of the tub is protected using a special pre-lacquer process before the application of four layers of high grade clear lacquer, resulting in a stunning finish. Other finishes in the Penhaglion range include the magnificent "mirror finish" French Bateau pedestal tub and the antiqued copper exterior. In addition Penhaglion is constantly adding new ideas to the art of bathtub finishing, giving buyers more choices.
James Bowers, sales director at Baths of Distinction, says that interest in the Penhaglion range has far exceeded initial estimates. "We have been selling the Penhaglion tubs all over the USA and also a few in the Caribbean Islands. Many have gone to top designers and high-end home builders looking for something a little extra special," he says.
2013 package prices from Penhaglion range from the upper two thousands to just over $5000. As Bowers explains the prices take into account that each tub is unique, hand finished and offers an exclusive bathing experience. "Buyers love the concept of owning a truly individual, one-of-a- kind bathtub. Some of our customers have described them as works of art and we couldn't agree more," says Bowers.
About Baths of Distinction:
Baths of Distinction manufactures high-quality clawfoot and pedestal bath tubs, as well as unique finishes, for homeowners and builders. It is an industry authority on the subject of vintage-inspired tubs and fixtures with experts who can bring your vision to life, whether it includes modern refinery or Victorian elegance. To see what Baths of Distinction can do for you, visit http://www.BathsOfDistinction.com.