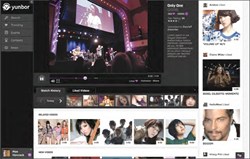 Our goal is to build a cultural bridge between the Chinese and Western audiences using the Internet and mobile networks
(PRWEB) July 24, 2013
On June 21st, a-Peer Synergy, Yahara Software, and a-Peer Holding Group & Shanghai Synergy proved Tapscott's point and one of their own by streaming a live concert featuring Chinese Soprano pop star Ruhan Jia and the New York based Rock band Edisun from the Majestic Theatre in Madison, Wisconsin directly to China and around the globe. The two companies utilized a new multimedia clouding technology, which allowed Ruhan and Edisun to perform together as if they were sharing a stage, although both were in their respective countries.
"Having personally watched the concert in the U.S. on YunboMedia.com, I can honestly say that the new streaming technology behind it was quite impressive," noted MusicDish's Michele Morris. Ruhan and Edisun's lead singer and frontman, Ethan Isaac, sang a beautiful duet together in which there were no time lapses or errors. It was truly a case of East meets West, as well as a night to celebrate both music and technology. The performances could be observed from multiple camera angles, and both close up and distanced shots were easily managed. The picture was crisp and clear, and there were no sound distortions.
As part of the event, viewers were privy to a VIP reception, during which Thomas J. Olscheske (CEO of a-Peer Holding Group LLC), Bob Vanden Burgt (President of Yahara Software LLC), and Jean Hsiao Wernheim (Chief International Executive, a-Peer Synergy Culture & Technology Co., Ltd.) each made brief remarks and introduced one another. Bill Zang (Vice President of Shanghai Synergy Culture & Entertainment Group, and the Chairman of the China Recording Industry Committee) was the principle speaker of the night. After thanking Yahara Software and a-Peer Holding Group for their achievement, he proclaimed the Online Life Streaming technology to be "the most important project for Shanghai Synergy Group" and said that it was "strongly supported by the China Ministry of Culture and GAPP (General Administration of Press and Publication)."
Mr. Zang was proud to announce that the event was the first time that China had conducted an inter-country, cross-continental performance. He was adamant that the accomplishment had and would continue to usher in tremendous cultural and business potential, where many young talents and artists would make use of cultural resources to fulfill their dreams. Olscheske was enthusiastic as well, stating, "Our goal is to build a cultural bridge between the Chinese and Western audiences using the Internet and mobile networks. One concert can now continue to generate revenue weeks and months after the performance by providing continuing social media network interactions and resources, including artist interactions and workshops within people's social media networks."
Summarizing the occasion and collaboration beautifully, Zang commented, "After nearly a year of Shanghai Synergy working with Yahara, we did the first testing for the online live concert streaming and received a successful result. This test has created great historical significance for China and the international music industry; it symbolized the fact that technology can connect all different cultures from all over the world, created the new chapter for the music performances and the human culture, and it contained massive commercial value business opportunities. We believe it will build a solid foundation for the second phase of technology development and research. We expect this technology will be soon be used in real life and open the door for those loving music, culture, art, and people."
About Ruhan Jia:
Ruhan Jia recorded the acclaimed performance from the double Grammy Award winning album, "Calling All Dawns" by Christopher Tin. On the album track representing China, "Dao Zai Fan Ye" Ruhan supe rbly blends Kunqu opera skill and western classical soprano singing. In 2009, Ruhan won the First Prize at the 18th Discovery International Festival and Second Prize at the prestigious Llangollen International Music Festival held in Wales.
Her debut album "Time to Grow" was released in 2011 November with The No.1 London based Film and TV label Silva that made her become one of the most sought out artists recently. Ruhan's weibo in China has accumulated over 500,000 fans followers.
About Edisun:
Edisun is a New York based Rock Band comprised of Vocalist Ethan Isaac, a former Madisonian who attended James Madison Memorial High School and the son of an NYC playwright and formally of the band Wooden, and guitarist Jonathan Svec (ex-Splender). The t wo were introduced by one-time partners Arma Andon and Claude Villani (Godsmack, RA, Petshop Boys, Sinead O'Connor). Following this introduction, the two brought on Bassist James Cruz, Prankster/Drummer Todd Budich, and Guitarist Joel Kelley. Since 2005, Edisun has performed for tens of thousands of American soldiers in 20 countries. These efforts got them featured in stories by Rolling Stone, Howard Stern, Charles Gibson from 'World News Tonight' and the Wall Street Journal. The band also made an appear ence on the sports radio show hosted by Dan Patrick.
EDISUN's wildly eclectic self-titled debut is passionate and euphoric, brimming with energy, attitude, melody and dynamics. Produced in mid-2010 by Claude Villani, a long-time EDISUN collaborator, and m ixed at NRG Studios in Los Angeles by Jay Baumgardner. EDISUN not only captured the excitement of their live show and the cavalcade of emotions that come from being away from home in the middle of a war zone they created an aurally rich, musically diverse record that reflects the universal hunger, creativity and vulnerability of youth.
About aPeer:
a Peer's founding management team represents a unique blend of creative arts, information technology, international business and cross-cultural management expe rtise that allows them to create business technology solutions for the music and creative arts industries. They also have extensive relationships with the key Chinese businesses, industry organizations and government agencies that are required to successfu lly conduct business in China. Thomas Olscheske, Ph.D. is the CEO & Chairman, along with Jean Hsiao Wernheim as the Chief Internati onal Executive & Board Member, of a-Peer Holding Group, LLC. Yanbin (Bill) Zang is President of a-Peer Synergy and Chairman of the China Recording Industry Committee, a division of CAVA, which represents the music industry working with the Chinese government on copyright law issues and policies. He is also Vice President of Shanghai Synergy Culture and Entertainment Group (SS CEG), the largest label and Entertainment Company in China, which is part of the Shanghai Media & Entertainment Group Group (SMEG), one of the world's most powerful and influential Chinese media broadcasting companies. SSCEG is one of the first companies to pilot live Internet network performances in China.
About MusicToChina:
Musictochina.com is a music and artist management company, founded by Steve Serasis, that works with a-Peer Synergy to promote Western artists in the Chinese market. Musictochina represents Edisun in the China market where they are planning a 14 concert tour at the end of 2013. They were instrumental in bring ing Edisun and Ruhan together for this cross-cultural collaboration piloting the new internation al live broadcasting technology. During this event M usictochina.com and a-Peer Synergy will be signing a partnership agreement to expand their activities to promote Chinese artists in the US and US artists in China. Part of this work will include developing more China/US collaborative performances that will be streamed live on the Internet and mobile networks in China and internationally.
About Yahara Software:
Yahara Software is a globally recognized software development firm that collaborates wi th organizations to provide a technical solution that meets the ir business needs and ideas. Yahara consultants support companie s and their product teams with business process analysis, design, development, and launch of their solutions. Yahara's experien ce is based on years of successful engagements in insurance, entertainment technology, manufacturing, medical device, education, financial, health care, government, and service-based companies. Founded in 1994, Yahara is a M icrosoft Gold and DNN Silver Cer tified Partner. Yahara Software is headquartered in Madison, WI.
Contact:
Diane Jensen
Yahara Software, LLC
http://www.yaharasoftware.com
+1 (608) 821-1850
DJensen(at)YaharaSoftware(dot)com