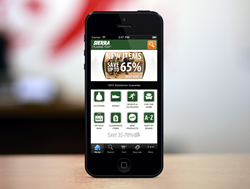 Building apps in-house lets us complement the experience customers have on the desktop and mobile versions of our site.
Cheyenne, Wyoming (PRWEB) July 26, 2013
Sierra Trading Post announced the release of its newest shopping app today, touting its powerful filtering, enhanced product shots and saved cart feature.
The Sierra Trading Post app for iPhone and iPad is available for free download from the App Store (SM) today, and to celebrate this launch, the Wyoming-based retailer is rewarding mobile shoppers with free shipping on orders placed using the app.
"This release reflects our commitment to providing the very best customer service at every possible engagement point in our stores, on our web sites and call centers," explains Andy Newlin, director of web operations and emerging technology for Sierra Trading Post. "Customers are tech-savvy, and we know they want to use mobile devices for shopping."
Like the free Android shopping app released last fall, Sierra Trading Post's app for iPhone and iPad uses precise filtering to make getting Great Deals and Great Brands easy. Find products quickly by brand or department, narrow by color, size and more. Single-page, infinite-scrolling lists make viewing product a cinch. Special offers, customer reviews, enhanced product shots and brand details mean purchasing with confidence. On-the-go shoppers can search using text-to-speech enabled search box. (See the app in action on Sierra Trading Post's YouTube channel.) Logged-in users benefit from a saved cart that allows them to continue shopping on another device without sacrificing items already in their cart. Built-in social sharing lets shoppers share product with friends on Facebook, Twitter and email.
"Product moves quickly in the closeouts business," Newlin says, "and our app allows iPhone and iPad users access to our newest product and an opportunity to take advantage of incredible deals on outdoor gear, apparel and home furnishings no matter where they happen to be."
The app was built in-house, allowing Sierra Trading Post complete control over the customer experience.
"Building in-house allows us to complement the experience customers have on the desktop and mobile versions of our site," says Adam Patridge, Sierra Trading Post mobile technology developer. "We want to use technology to drive a great experience for our customers, and we want the experience to be consistently positive."
The Sierra Trading Post shopping app for iPhone and iPad is compatible with devices using iOS 5 or later and include iPad, iPhone 3GS, iPhone 4, iPhone 4s and iPhone 5 as well as third, fourth or fifth generation iPod touch. Download the app by searching "Sierra Trading Post" on the App Store or by clicking here. Learn more about our mobile apps by clicking here.
About Sierra Trading Post
Headquartered in Cheyenne, Wyo., Sierra Trading Post is a top internet retailer known across the globe for offering "Great Deals. Great Brands." Sierra Trading Post purchases overstocks, closeouts and 2nds from more than 3,000 brand names, and has offered customers 35-70% savings every day since 1986 on outdoor gear, shoes, clothing, accessories and home furnishings. Sierra Trading Post has outlet stores in Boise, Idaho; Reno, Nev.; Cheyenne and Cody, Wyo., as well as a Technology Campus in Fort Collins, Colo. In December 2012, Sierra Trading Post was acquired by TJX Companies, the leading off-price retailer of apparel and home fashions in the US and worldwide.