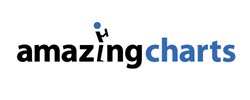 Ringadoc not only makes a doctor's day-to-day life easier and more productive, it also improves patient-engagement because they can hear a patient's actual voice." -Kathryn Repoli
North Kingstown, RI (PRWEB) July 24, 2013
Amazing Charts.com, LLC, a leading developer of Electronic Health Record (EHR/EMR) systems, today announced its partnership with Ringadoc, the nation's leader in doctor-patient communication. The partnership adds a new level of convenience to after-hours communication for Amazing Charts users.
Ringadoc is an automated, cloud-based answering service that allows doctors to access and respond to after-hours messages using any device, instantly. They can check phone messages like email with a mobile app for Android & iPhone. The cost starts at $49 per month per office.
"Like Amazing Charts, Ringadoc is known for a solution that is both easy to use and affordably priced," said Kathleen Repoli, Senior Vice President of Amazing Charts. "Ringadoc not only makes a doctor's day-to-day life easier and more productive, it also improves patient-engagement because they can hear a patient's actual voice."
"Ringadoc is excited about our partnership with Amazing Charts," said Jordan Michaels, CEO and Co-Founder. "We both serve a market of innovative physicians who are looking to increase efficiency and communication within their practice. Amazing Charts physicians understand that technology can help improve their lives and the lives of patients, so we're confident that they will understand the benefits of Ringadoc."
About Amazing Charts
Headquartered in North Kingstown, RI, Amazing Charts provides Electronic Health Records (EHR/EMR) and services to healthcare practices. Based on number one user ratings for usability, fair pricing, and overall satisfaction, Amazing Charts has been adopted by more than 8,300 clinicians in nearly 6,000 private practices. Founded in 2001 by a family physician, today Amazing Charts.com, LLC operates as a subsidiary of Pri‐Med, an operating division of Diversified Business Communications (DBC) and a trusted source for professional medical education to over 260,000 clinicians since 1995. For more information, visit http://www.amazingcharts.com
About Ringadoc
Ringadoc simplifies communication between doctors and patients. Ringadoc empowers doctors, giving them the ability to triage patients, centralize communications, and manage their after-hours calls on any device. Based in San Francisco, Ringadoc is backed by top Silicon Valley investors including FF Angel. To learn more about Ringadoc, visit http://www.ringadoc.com
###
Amazing Charts is a trademark of Amazing Charts.com, LLC. All products or service names mentioned herein are trademarks of their respective owners.