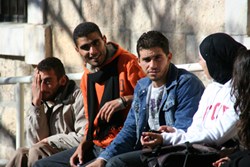 The more education and job training we can provide, the more it will help stem the exodus of Christians
(PRWEB) July 24, 2013
Fr. Peter Vasko, President of the Franciscan Foundation for the Holy Land (FFHL) says proposed expansion "will help more Christians build professional careers and stay in the Holy Land.
The university's recent agreement with the Custody of the Holy Land to purchase three acres owned by the Latin Patriarchate will enable construction of new classrooms, laboratories and offices, he said. The objective is new Master's Degree programs in business management, governance and public administration as well as international diplomacy and foreign policy, Vasko commented
.
"Bethlehem University has long been a shining star in our effort to provide higher education to Palestinian Christians," he added. "The more education and job training we can provide, the more it will help stem the exodus of Christians from the Holy Land."
The university was established in 1964 as the first Catholic University in the Holy Land, and has offered a full time academic program since 1973. The proposed new development was announced by the Custos of the Holy Land, Fr. Pierbattista Pizzabella. He confirmed that the Custody has agreed to provide financial assistance in purchasing the land.
"The Foundation's mission is to provide education, job training and housing assistance to Christians who have been isolated and marginalized throughout the Holy Land," Vasko said.
He pointed out that Bethlehem itself is completely cut off by the 30-foot high security wall built around the city by the Israeli government.
"Palestinians living in the city cannot get to jobs or schools, or even get medical help," Vasko held.
The Israeli government considers all Palestinians the same whether Christian or Muslim. As a result, Vasko said, Christians have been leaving their homeland for opportunity elsewhere.
Since its founding, the university has provided higher education classes for more than 14,500 Palestinian Christians, Vasko said. "It's a great start," he added, "and now it will get even better."