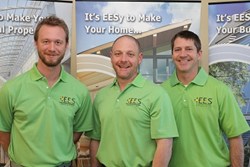 The energy efficiency and sustainability industry has been rapidly growing over the past decade with commercial and industrial building owners and managers realizing a 30-50% reduction in energy consumption with a four year payback or less
Houston, TX (PRWEB) July 25, 2013
Energy Efficiency and Sustainability (EES) Consulting, a leading energy efficiency consulting firm with commercial and residential solutions, is continually seeking to provide energy efficiency savings and solutions nationwide. As part of this continued effort, EES Consulting has expanded into the southeastern United States to serve clients in Chattanooga, Tennessee. The new EES Consulting franchise serving this region consists of Steve Pickett, Ethan Collier and Dan Levan. The three of them have extensive experience in service operations, business expansion, organizational development, energy efficiency and customer service.
Steve, a Tennessee native, is a graduate of the University of Tennessee Chattanooga where he earned a bachelor of science in chemical engineering. After graduating from college, he held various positions at Shaw Industries including process engineer, quality manager and production manager. After eight years at Shaw, Steve decided to pursue his own business, Pickett Homes, Inc., which built new construction homes and performed all types of residential remodeling. After seven years of acting as a licensed general contractor for Pickett Homes, he left the construction business to join the EES team.
Ethan, a Tennessee native, has over a decade of experience in the building industry, serving as the president and chief executive officer of Collier Construction. Under Ethan's leadership, Collier Construction has experienced significant growth each year since its inception. He will continue to take a lead role in all phases of this business. Ethan is passionate about promoting sustainability throughout the Chattanooga area and engages issues of economic development and environmental stewardship in the community with two film projects, numerous workshops and seminars. He was recently recognized for his efforts and was named as Entrepreneur of the Year by the Young Professionals Association of Chattanooga. Ethan is also a LEED Accredited Professional builder and currently serves on the Board of Directors of the Home Builders' Association of South East Tennessee, the local and national US Green Building Council and the Habitat for Humanity of Greater Chattanooga.
Dan, a graduate of Grace College, DePaul University and Dale Carnegie Course, has over 25 years of business experience to offer EES. He has held various positions including managing director and chairman of TD Reinsurance, chief financial officer of life insurance for Genworth, regional chief financial officer and controller of ALICO and chief operating officer and vice president for Transamerica Reinsurance International. Dan is passionate about strengthening communities and has served as chairman of Hope for the Inner City and as director for Jubilee, United Way, Urban Art Institute, USA Youth Hockey and Russian NGO. He also spends time in Barbados where he and his children work with a local orphanage.
"The energy efficiency and sustainability industry has been rapidly growing over the past decade with commercial and industrial building owners and managers realizing a 30-50% reduction in energy consumption with a four year payback or less due to the EESy method. Our hope is that our local franchises will be able to quickly get these energy saving solutions into the Southeastern region and take advantage of local and federal incentives as well," said EES Consulting's CEO, Faisal Nazir. "Steve, Ethan and Dan have over 50 years of business experience between them, giving them an excellent foundation to succeed. We could not be happier to welcome them to the EES team."
EES Consulting provides customized energy solutions for commercial and residential clients, including high return on investment retrofit products that ensure the greatest energy savings. Through our patented EESy three-step process, our consultants are able to determine the clearest path to saving the most energy and money. For more information or to become an EES franchise, visit http://www.itseesy.com or call 855.ITS.EESy.