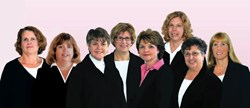 All calls during business hours are answered by the third ring by a real person, which is what truly sets us apart.
Neenah, Wis. (PRWEB) July 24, 2013
As a result of ongoing research and conversations with family caregivers and seniors throughout the United States, The CareGiver Partnership's own brand of customer service — Personalized AttentionSM — again has received "Excellent" and "A+" ratings, says Lynn Wilson, Founder of The CareGiver Partnership.
"What we've learned is what matters most to caregivers is being able to speak to someone who is knowledgeable, which is why our call center is staffed by women who all are current or former caregivers with 2 to 7 years' training. All are highly knowledgeable about the more than 500 incontinence products we carry," Wilson says. "And all calls during business hours are answered by the third ring by a real person, which is what truly sets us apart."
The CareGiver Partnership has been conducting research among caregivers and their loved ones since 2004. And the result is continued growth, a STELLA Service rating of "Excellent," a Better Business Bureau rating of A+, and 9 out of 10 customers rating it a 9 or 10.
Research shows consumers also value service after the sale, friendly and available staff, and flexible return/exchange policies. Areas of The CareGiver Partnership buying experience that have grown from this research include a secure and easy online shopping experience and its "Try Before You Buy" sample service, which saves the first-time buyer of incontinence products about $130 by avoiding trial and error buying until they find what works best for them.
As a result of 30 years of studying customer service, Tom and Lynn Wilson published "Negotiate Anything! Secrets to make businesses treat your fairly. And for businesses ... how to pull ahead of the competition through excellent customer service." The 266-page book, written for everyone from CEOs to the average consumer, outlines how a company that cares about its customers is winning with impeccable, personalized service.
For a limited time, the e-book version is being offered for free. To claim a copy, valued at $9.95, visit Smashwords and enter code UD29U at checkout.
The CareGiver Partnership is a national direct-to-consumer retailer of home healthcare products for incontinence, diabetes, nutrition support and more. In its sixth year of providing products and services that help caregivers and loved ones maintain personal dignity, the company also offers an online library of more than 1,200 family caregiver resources and personal service by experts in caregiving. Call 1-800-985-1353 or visit online at http://www.caregiverpartnership.com.