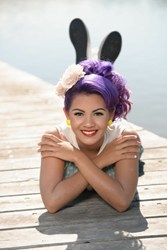 "Pink teen pop with sugar and chocolate and syrup on top"
Los Angeles, CA (PRWEB) July 25, 2013
Australian singer Taylen's time spent in Los Angeles has certainly paid off. She performed, received two LA Music Award nominations, filmed a music video and was observed by producer, Dave Isaac. Taylen is excited to be under the direction of Dave whose achievements include 3 Grammy Awards and numerous Grammy Nominations. His works spans the music, television, and film industry. Over his career, he has given his services to a number of high profile artists such as Michael Jackson, Whitney Houston, Madonna, Prince, Eric Clapton, Luther Vandross (just to name a few) and can be found currently collaborating on mixes with Tony Maserati for Leah Labelle, Robin Thicke, and Printz Board.
"I am thrilled to be partnered with David Isaac as his music, credits, and brand is internationally known and respected as a Grammy winning producer. His song writing and producing power team will strengthen my natural talent as we create music that everyone can enjoy." said Taylen. "I am also extremely excited and feel very blessed to have the opportunity to draw upon his knowledge because he has so much to offer—both for me and my fans." stated Taylen. "From my young teenage audience, to Motown veterans, my album will be loved and embraced—it's a win–win situation." When asked what she contributes this remarkable milestone to, the young star humbly answered, "This opportunity didn't come easy; it came with much hard work, perseverance and dedication." This is definitely a dream come true for Taylen.
"In addition to recording my first full album, I now have my eyes set on touring as early as June 2014, offering my fans to come and see me perform." Fans interested in following her journey and to be kept up to date with the album recording can visit http://www.officialtaylen.com.
For bookings and interviews, please send email to info(at)officialtaylen(dot)com
USA: 1 310 598 7204
Australia: 61 416 721 464