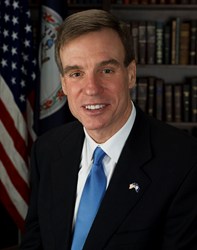 Vienna, Virginia (PRWEB) July 24, 2013
NSO@Wolf Trap
America the Beautiful
Emil de Cou, conductor
Senator Mark R. Warner, narrator
Copland, Gershwin, Brubeck and more.
Huge screens in-house & on the lawn.
Saturday, July 27, 2013 at 8:30 p.m.
$22-$55
United States Senator Mark R. Warner (D-VA) will take part in America the Beautiful, a new production at Wolf Trap with the National Symphony Orchestra, this Saturday, July 27. Senator Warner will be featured as the narrator in Lincoln Portrait, an orchestral work by American composer Aaron Copland and written as part of a patriotic war effort during World War II. During the piece, Senator Warner will read excerpts from Abraham Lincoln's speeches and letters, including the Gettysburg Address.
The America the Beautiful program also includes "Ansel Adams: America," composed by Chris and Dave Brubeck, paired with more than 100 striking photographs of or by Ansel shown on huge screens, in-house and on the lawn; George Gershwin's An American in Paris; and excerpts from John Williams' score to the award-winning film Lincoln.
High-resolution image: Photo of Sen. Mark R. Warner
Video: Dave and Chris Brubeck discuss "Ansel Adams; America"
Wolf Trap National Park for the Performing Arts
1551 Trap Road
Vienna, VA 22182
For tickets call 1.877.WOLFTRAP or purchase online at http://www.wolftrap.org.
For more information, call Wolf Trap at 703.255.1868.
Wolf Trap is metro accessible! Our environmentally friendly Wolf Trap Express Bus travels from the West Falls Church metro stop every 20 minutes starting two hours prior to show time. For details, please visit, http://www.wolftrap.org/metro.