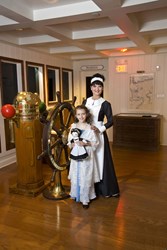 Branson, Missouri (PRWEB) July 23, 2013
Branson Ticket & Travel - Last Chance to see what is hailed as the most important Titanic artifact discovery ever made.
July 23, 2013 - The Titanic violin played by the bandmaster
Wallace Hartley of the RMS Titanic as the famed ocean liner slipped away will be on exclusive display in Branson, MO., Thursday, August 1 through August 15, 2013 at the Titanic Museum Attraction, announces John Joslyn –expedition leader of the first private exploration dive to Titanic and owner of the Titanic Museum Attractions in Branson and Pigeon Forge, TN.
To purchase tickets online Click Here or call 1-800-432-4202
As of August first, the only place in the United States anyone can see Titanic band leader Thomas Hartley's iconic Titanic violin - before it goes up for auction in England - is at the Titanic Museum Attraction in Branson, Mo. "This is a once-in-a-lifetime opportunity for all Titanic fans to become a witness to history," Joslyn says.
"I've explored Titanic at the bottom of the sea, documented my discoveries for television and even built two giant museum attractions in tribute to this iconic ship, but when I came face-to-face with the actual violin Hartley had played that cold April night, the whole Titanic experience came into focus, bringing an emotional and melancholy close to a catastrophic chapter in the Titanic story. I feel certain our guests will feel the same," Joslyn adds.
For a Free Showguide & Vacation Planner or more information Click Here.
Because of the historical importance of this event, Early Morning Special ticketed, VIP Private Previews of the Wallace Hartley Violin exhibit will be offered daily beginning at 8:30 a.m. starting Thursday, August 1st.
Regular admission tickets will begin daily at 9 a.m.. Reservations are required for all tickets. Additional information about the Wallace Hartley Titanic Violin exhibit at the Titanic Museum Attractions can be found online