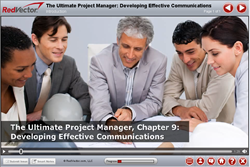 At RedVector we are committed to delivering the highest-quality, relevant content with direct application to daily work so that our learners are able to apply more of what they learned back on the job." – Matt Casey, PhD, RedVector VP of Content
Tampa, FL (PRWEB) July 25, 2013
RedVector.com, the leader in online continuing education and workforce training solutions for the architecture, engineering, and construction (AEC) industry, recently launched 22 completely revised project management courses specifically for AEC professionals.
The Ultimate Project Manager Course Series has expanded from 18 to 22 courses and now includes 27 hours of expert-developed content approved by both the American Institute of Architects and the Project Management Institute (PMI). The 18 original courses in the series have been completely revamped and four brand-new courses have been added, with all content in a narrated, mobile-friendly format that provides students the flexibility to learn on the device of their choice. The four new courses are:

The Ultimate Project Manager, Chapter 9: Developing Effective Communications (RV-10433)
The Ultimate Project Manager, Chapter 20: Alternative Project Delivery Methods (RV-10444)
The Ultimate Project Manager, Chapter 21: A/E Project Management Benchmark Data (RV-10445)
The Ultimate Project Manager, Series Summary: The Short and Sweet Version (RV-10446)
"Project management is becoming increasingly important because of the benefits reaped from exemplary project execution when adhering to project management guidelines," said RedVector Vice President of Content Matt Casey, PhD. "This series offers a wealth of content that is engaging, interactive and in an easily accessible mobile format with convenient printable course summaries. At RedVector we are committed to delivering the highest-quality, relevant content with direct application to daily work so that our learners are able to apply more of what they learned back on the job."
RedVector is a PMI Registered Education Provider for project management training and recently completed a successful live webinar on the PMBOK® Guide—Fifth Edition and its impact on today's project management practice in the AEC industry and beyond. The new Ultimate Project Manager course series is accessible through the RedVector online course library and can be located by typing "ultimate project manager" in the "Keywords" box.
About RedVector
RedVector sets the standard for excellence in online continuing education and training for the architecture, engineering and construction (AEC) industry and holds more than 60 state and national accreditations. Through our award-winning Learning and Performance Engine (our version of an LMS) we offer individual courses as well as large-scale corporate training solutions for AEC firms featuring customizable and easily accessible online universities with a full range of tracking and reporting features. With an online library exceeding 1,100 courses authored by more than 100 subject matter experts, RedVector serves more than 130,000 AEC professionals in all 50 states. The recipient of numerous community honors and industry awards, RedVector was founded in 1999 and is headquartered in Tampa, Florida. For further information call 1-866-546-1212 or visit http://www.RedVector.com.
PMBOK is a registered trademark of Project Management Institute, Inc.