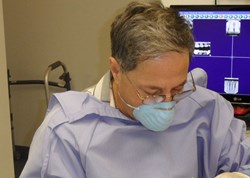 Fountain Valley, CA (PRWEB) July 23, 2013
Dr. Robert Mokbel now offers the Laser Assisted New Attachment Procedure (LANAP) gum disease treatment for patients suffering from gum disease and tooth loss. Many Americans are affected by some form of gum disease. Gum disease is a condition that starts with the growth of bacteria in the mouth. If not properly eradicated, toxins from bacteria can eventually destroy the tissues around the tooth. Ultimately this may lead to the loss of teeth.
Tooth loss can present cosmetic concerns and health risks. When a tooth falls out or is extracted, the root of the tooth is no longer stimulating bone growth in the jaw. Over time, this can lead to degeneration of the bone, which can change the shape of the face and contribute to wrinkling of the skin. Missing teeth can affect chewing, nutrition and comfort.
Dr. Mokbel offers a minimally invasive gum disease treatment with LANAP. This procedure uses a state-of-the-art laser to remove diseased tissue and bacteria from the gums while preserving healthy tissue for ultimate healing potential. The laser also stimulates regeneration of bone in the jaw, and this is the feature that helps Dr. Mokbel preserve his patients' natural teeth.
If you are suffering from gum disease and tooth loss, do not put off treatment. Visit http://www.scdentalimplants.com to learn more about treatment options.
About The Doctor
Robert Mokbel, DDS is a prosthodontist offering personalized laser and implant dentistry for gum disease patients in Fountain Valley, CA for over 28 years. Dr. Mokbel received his Prosthodontic degree in Paris, France where he did four years of research in prosthetics and in occlusion and attended periodontal courses. He then arrived at USC where he taught prosthetics since 1983. He is part of one percent of dental professionals providing the most recent FDA cleared laser procedure for gum disease treatment. To learn more about Robert Mokbel, DDS and his services visit his website at http://www.scdentalimplants.com and call (714) 905-5335.