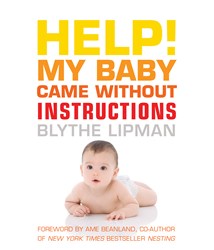 (PRWEB) July 24, 2013
Bringing home baby can be one of the most exhilarating and nerve-wracking days in a new parent's life, especially if those parents happen to be British royalty. As an infant care specialist with over twenty-five years of experience, Blythe Lipman has some tips for the Duke and Duchess of Cambridge, and for any new parents who just discovered their bundle of joy doesn't come with instructions.

While the baby sleeps, take a 20-minute power nap. Everything will still be there after, and they will seem more manageable after resting.
Plan at least two hours a week of time just for you.
Keep the camera out, ready, loaded with film, and batteries charged.
Don't forget to eat. Keep up the energy to take care of the baby and stay healthy.
Blythe Lipman says to sum up, "Don't forget to take care of yourself. Be proud of who you are as a wife, mother, and as a woman; or as a husband, father, and as a man. Make your heart smile by enjoying each and every minute you spend with your baby. Life is wonderful! Your baby is your most precious possession. There is nothing more exciting on earth than having the opportunity to watch her grow, explore, and learn—the opportunity to expose her to all the good things life has to offer, the opportunity to teach her all you know. Most of all, relax, have fun, and enjoy this miracle you have created."
Help! My Baby Came Without Instructions:
How to Survive (and Enjoy) Your Baby's First Year
By Blythe Lipman
Blythe Lipman has devoted her life to the art of newborn care and offers wise and witty practical advice in this parent-tested, doctor-approved book. Filled with valuable information new parents need, Help! My Baby Came Without Instructions will have nervous new moms and sleep-deprived dads feeling confident about their parenting skills. Hints on daily routines, sleep patterns, crying, the art and science of diapering, and traveling with a newborn are all included.
Also from Blythe Lipman:
Help! My Toddler Came Without Instructions:
Practical Tips for Parenting a Happy One, Two, Three and Four Year Old
By Blythe Lipman
Go from stressed out, overwhelmed and exhausted to meltdown free and mellow! When new "toddler troubles" arise, turn to Lipman's Help! My Toddler Came Without Instructions and be back in control of your out-of-control child.