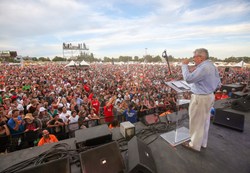 "People will see the Church in a light they have never seen it before." - Richard Strutz, Love Alaska Co-Chair
Anchorage, Alaska (PRWEB) July 24, 2013
Next spring, world evangelist Luis Palau and his team will partner with faith, business and civic leaders throughout Alaska to host Luis Palau Love Alaska, a comprehensive campaign focused on prayer, training, service, evangelism and ongoing outreach. Local leaders hope they can use this effort to break down barriers among different groups, creating greater levels of communication and partnership for the greater good of the region. Already more than 116 churches and thousands of volunteers in Anchorage, Fairbanks and many other communities across the state have pledged their involvement.
"I'm so thrilled to be invited to join with the people of Alaska to love and serve their great state," Palau said. "We have a chance—together—to make a difference for eternity in people's lives. That's exciting."
The massive effort will begin in January 2014, with the Season of Service. Planning is already underway, with the goal for Season of Service to mobilize more than 10,000 volunteers from local churches to participate in various community service projects. The focus will be on education, homelessness & hunger, and underserved & at-risk individuals. Volunteers will also offer added support for existing projects in the community.
"There are lots of opportunities for churches to get involved," shared Jay Pullins, pastor at ChangePoint Church in Anchorage. "We're excited to be part of serving our city in ways that we haven't experienced before."
The campaign includes a 2-day festival, set for May 17 and 18, 2014. This free festival will feature action sports, family activities, musical performances from top Christian recording artists, and clear Gospel messages from Luis Palau, his son Andrew, and several partner evangelists. Several additional community events are being planned for Fairbanks and other communities, soon to be determined.
Love Alaska will be a great catalyst for unifying churches," said Luis Palau Love Alaska co-chair Richard Strutz. "This will be an outstanding event for our community... getting many organizations to work together. People will see the Church in a light they have never seen it before."
Luis Palau Love Alaska is being planned and facilitated by a local executive committee in Anchorage led by co-chairs Loren Leman and Richard Strutz. The Board of Reference for the campaign includes Edward B. Rasmuson of the Rasmuson Foundation, Mark Hamilton, formerly
of the University of Alaska, Katherine Gottlieb of the Southcentral Foundation, and a number of pastors from throughout the region. A local executive committee is being formed in Fairbanks to help guide their local effort as well. The M.J. Murdock Charitable Trust has also joined in as a key partner for the statewide effort.
Luis Palau has worked with thousands of churches around the world, bringing a message of hope through faith in Jesus Christ to more than 1 billion people through radio, television, and other media. He is the author of more than 40 books and countless articles on issues of faith. His latest book, "Out of the Desert…Into the Life God Intended", was released June 2012.
For more information, visit http://www.lovealaska.org or contact Becky Hansen, 907.223.1197 or Jenni Ragland, 907-317.2430.