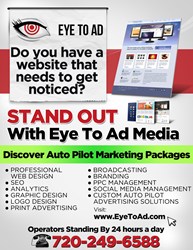 What does your business have to say?
New York, NY (PRWEB) July 24, 2013
An innovative marketing company, Eye To Ad Media announces professional voice over services for business owners. Having the right voice over can make or break an advertising piece. What customers hear and how it is delivered is critical for creating conversions. This unique ad agency offers a wide variety of media services such as web design, SEO, graphic designs, print ads, flyer distribution, copywriting and voice overs.
Promoting a business can be incredibly time consuming and complicated. Fortunately there are specialized organizations that can help streamline marketing. According to the company, clients have the opportunity to consolidate numerous forms of media into one manageable budget. Their promotional packages begin very modestly priced and increase to the more expensive incredibly aggressive campaigns.
Understanding search engine optimization is almost inevitable for ranking high in the search engines. However SEO can be very complex and time consuming. Business owners that cannot afford to bring in their own in house person will appreciate the simplicity of the services offered by this exceptional media company.
While print is still a very viable form of promoting a company, internet marketing is becoming increasingly attractive due to its incredible efficiency and ability to connect clients and companies. It's very common for consumers to get online and search for the product or service they're looking for. Almost every industry has a set of specific keywords that relate to their industry. Many times businesses will choose to target keywords that are focused on finding their primary demographic.
There's pretty much no such thing as a sure thing in marketing. It is a process that involves calculative tracking and analytics to help determine what is working versus what is not working. A business can have the greatest product or service, and even an impeccable website. However if shoppers can't easily locate the business online, traffic to that website may be very limited.
Fortunately there are solutions and proven strategies that can help business owners attract their primary target audience. This incredible marketing resource can assist clients in determining where conversions are being adversely affected. Their experts can help figure out if there are any disconnects in the conversion pipeline, pinpointing the specific areas that need to be refined to help increase conversion rates.
Being found online is more difficult with some industries than others. However online advertising is crucial no matter the type of business. Sometimes it just requires more money and effort to get the same results. Integrating a memorable voice over to tell a business's story can have tremendous payback. The right voice will not only help with top of mind awareness and branding, but it can accurately deliver the desired message to the target audience.
Contact Information:
Zach Wennstedt
info(at)EyeToAd(dot)com
720-249-6588
http://www.eyetoad.com