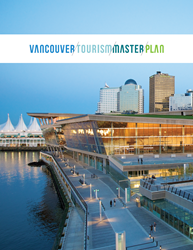 When industry, government, residents and tourism are aligned, the destination as a whole is strengthened and everyone's experience is enhanced.
New York, New York (PRWEB) July 24, 2013
International destination management executives and officials at the recent Destination Management Association International Convention in Orlando got a glimpse of best practices and lessons learned from the creation of Vancouver's first ever tourism master plan.
Resonance Consultancy Executive V-P Richard Cutting-Miller, along with Paul Vallee of Tourism Vancouver, told the crowd how tourism master plans can help position DMOs in long-term destination development.
"Tourism and the visitor experience touch so many aspects of a destination, from infrastructure to product development to neighbourhoods to transportation," Cutting-Miller says. "When industry, government, residents and tourism are aligned, the destination as a whole is strengthened and everyone's experience is enhanced."
Resonance designed Vancouver's plan to analyze gaps, identify opportunities and establish priorities to ensure the tourism industry grows in an economically, socially and environmentally sustainable manner. The plan was created for Tourism Vancouver, the City of Vancouver and Vancouver Economic Commission.
An overarching ambition of the plan was to enhance alignment between City administration and the tourism business. "Vancouver's plan gave us an opportunity to show the city administration opportunities through a tourism lens," Cutting-Miller says. "We feel that with the report and the action items that emerged from it, a meaningful partnership can be formed that will advance the interests of all parties."
The recommendations covered eight areas: product development, events, visitor experience design, neighbourhoods, tourism infrastructure development, transportation, advocacy and public affairs, and partnerships and alliances.
"Tourism is one of Vancouver's most exciting and significant industries, supporting over 28,000 jobs in our city," says Vancouver Mayor Gregor Robertson. "Building on the incredible success of the 2010 Olympic and Paralympic Winter Games, it is an industry with vast potential for growth and one that merits the full ongoing support of government partners. It is important that we come together to ensure coordinated development that meets the future needs of residents, visitors, investors and other stakeholders in showcasing Vancouver to the world."
The Resonance process involved more than 180 one-on-one interviews with tourism industry members and stakeholders, which informed a comprehensive online survey of more than 2,000 residents and industry stakeholders. The highly successful survey generated some 11,000 comments. Two open houses were held and more than 400 documents and reports reviewed.
"This is a monumental step for Vancouver," said Rick Antonson, Tourism Vancouver's president and CEO. "The Tourism Master Plan sets both future benchmarks and shared ambitions that will help guide the tourism planning process in years to come."
About Resonance Consultancy
Resonance Consultancy provides brand development, strategic marketing and planning services to leading travel & tourism companies and organizations around the world. The principals of Resonance have completed more than 100 travel & tourism studies, reports and plans in 65 different countries.