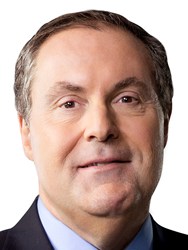 This year, we are honored to present Andrés with the Lifetime Achievement Award in recognition of his remarkable career as a Sportscaster. - Chris Pursell, Director of Sports Content at Cynopsis: Sports
New York, NY (PRWEB) July 24, 2013
Cynopsis Sports is proud to announce that Andrés Cantor, famed sportscaster for Telemundo, will be honored with the Lifetime Achievement Award at the annual Cynopsis Sports Business Summit on August 14 at the Grand Hyatt in New York City for his illustrious career in broadcasting, which spans almost three decades, thousands of goal calls, multiple World Cups, Olympic Games, and numerous other prestigious awards. Deportes Telemundo's Executive Vice President Jorge Hidalgo will introduce and present Cantor with the award.
Cantor's legacy in sports has resonated not only throughout the country, but around the world as an Emmy award-winning broadcaster that has narrated every single World Cup for radio and TV since 1986. He has broadcast top matches of the Mexican League for "Fútbol Estelar" and Mexico's World Cup qualifying matches on "Rumbo al Mundial" for Telemundo since 2000, when he became the first Hispanic crossover broadcaster narrating both Men's and Women's Soccer for NBC, Telemundo's sister network, in English during the Summer Olympics in Sydney, Australia. Four years later, Cantor became a key part of Telemundo's historic Emmy award-winning coverage of the 2004 Summer Olympics in Athens, as Telemundo became the first Hispanic network in the United States to cover the Games from beginning to end and continued that tradition for the Emmy award-winning coverage of the 2008 Beijing Games as well as the 2012 edition in London.
Cantor attracted mainstream attention while calling the 1994 World Cup that took place in the United States at Univision as well as for his own radio station, "Fútbol de Primera." His trademark "GOOOOOOOL!!" call became a national phenomenon regardless of language as he earned the Sportscaster of the Year Award and also appeared as a guest in some of the most popular late night talk shows in America such as the "Late Show with David Letterman," which cemented his place in pop culture consciousness.
"This year, we are honored to present Andrés with the Lifetime Achievement Award in recognition of his remarkable career as a Sportscaster," said Chris Pursell, Director of Sports Content at Cynopsis: Sports. "As one of the most influential sports and entertainment television sportscasters of the last quarter century, his voice is one that crosses cultures and generations and his role in the growth of an entire sport will be felt for decades to come."
The Cynopsis Sports Business Summit on August 14 will focus on sports content, context and digital connectivity to build audiences, engage fans and integrate sponsors locally, nationally and on a global stage. Register for the event here: http://www.cynopsissportssummit.com.
Executives from sports brands, networks and leagues will share key perspectives on growing brands, monetizing value and building communities by tapping into the unrivaled passion of the sports fan. The August 14 Summit will feature a lineup of speakers from networks and companies such as Anheuser-Busch, ESPN, Google, NBC Sports Group, CBS Sports, Turner Sports, NFL, NASCAR, Showtime, NHL, Octagon, Subway and many more. See full speaker list here.
For questions or issues related to registration, contact Pete Romas at pete(at)cynopsis(dot)com. For advertising or sponsorship information, contact VP of Sales and Marketing Mike Farina at mike(at)cynopsis(dot)com. For any inquiries regarding Andrés Cantor and/or Deportes Telemundo, please contact Manager of Publicity Martin Bater at martin(dot)bater(at)nbcuni.com.
Cynopsis Media is a division of Access Intelligence LLC. The Cynopsis Media family of products includes Cynopsis, Cynopsis: Sports and Cynopsis: Digital daily e-publications, weekly Cynopsis: Kids! and Cynopsis: Classified Advantage e-publications, Special Editions, a strong database of Classifieds and more. Visit cynopsis.com.