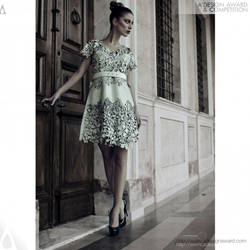 Como, Italy (PRWEB) July 31, 2013
A' Design Award and Competitions are proud to see that the design Gilda and Metamorphosis Collections by Fashion Designer Francesca De Blasi has been granted the notable Golden A' Design Award at Fashion, Apparel and Garment Design Category and chosen as one of the winners by the esteemed referees of the A' Design Award & Competition within numerous nominations.
Concerning Gilda and Metamorphosis Collections
Gilda and Metamorphosis is a capsule collection, the special feature is the handmade details and fine design for print and technologies used to create the designs. Metamorphosis is a reinterpretation of an icon dress of the seventies: the wrap dress. The wrap dress, in fact, is a versatile dress identity and may have different meanings, it adapts itself to the body that is wearing it, emphasizing the female figure, being a strong communicative and seductive tool. Concerning Gilda, garments are embellished with handmade petals and Swarovski crystals, and the research was more historical and cinematographic, and the collection is inspired by the diva Rita Hayworth.
To learn more, please visit http://www.adesignaward.com/design.php?ID=26374.
Project Members for Gilda and Metamorphosis Collections
Gilda and Metamorphosis Collections was designed by Fashion Designer: Francesca De Blasi, Photographer: Kalòs Photoart, Model: Eleonora Boi, Make-up: Giorgia Scano, Hair Stylist: Carlotta Pischedda, Cinematographer : Daniele De Muro.
The Golden A' Design Award
The Golden A' Design Award is a prestigious award given to top three percentile designs that has achieved an exemplary level of greatness in design. The designs are judged by a panel of three different jury which is composed of Academic, Professional and Focus Group Members. The designs are evaluated with score normalization to remove any biases and are voted on aspects such as functionality, ergonomics, engineering, presentation, innovation, usability, fun details, technology, and any other specific points that could be considered, each of these points are further weighted for different jury groups.
About A' Design Award and Competitions
A' Design Award and Competitions, aims to highlight the excellent qualifications of best designs, design concepts and design oriented products. A' Design Award and Competitions are organized and awarded annually and internationally in multiple categories to reach a wide, design-oriented audience. Learn more at http://www.whatisadesignaward.com.