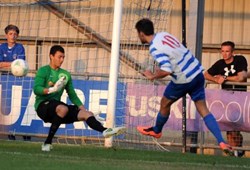 Oxford, UK (PRWEB) July 24, 2013
Oxford City FC (OTCQB:WMXG) in their first home pre-season match the Hoops found themselves behind inside a minute but quickly took control of the match and never looked back.
City fired back when the returning standout Albi Skendi completed a fine solo effort sending the ball past Oxford United goalkeeper Max Crocombe. Albi Skendi continued his dominance by combining with Benjamin resulting in the second City goal. The two linked once more with Skendi finishing after some strong running from Benjamin.
City weren't done there, as the star of the match Skendi battled to win a header, which fell at the feet of Tom Winters, who struck a powerful low volley into the bottom corner.
The second half saw plenty of substitutions, the likes of Kieran Sanders, Liam Malone and Callum Mcnish taking to the field and it was sub Will Green who added the fifth and final goal to seal a memorable 5-1 win for the blue side of Oxford.
Safe Harbor for Forward-Looking Statements
This press release contains forward-looking statements within the meaning of Section 27A of the Securities Act of 1933, as amended, and section 21B of the Securities and Exchange Act of 1934, as amended. Readers are cautioned not place undue reliance on these forward-looking statements, which are only predictions and only speak as of the date hereof. Forward-looking statements usually contain the words "estimate," "anticipate," "believe," "plan," "expect," or similar expressions and are subject to numerous known and unknown risks and uncertainties. These risks and uncertainties could cause the Company's actual results to differ materially those indicated in the forward-looking statements. Investors are encouraged to carefully review regulatory filings prior to investment consideration. Past performance is no guarantee of future success or that there cannot be losses or business interruption. The Company is in a rapid growth sector that may or may not continue to grow in the future and therefore poses risks that may be different than other investments. Management regularly provides news and additional information believed to be true and accurate at the time of dissemination but has no requirement to modify, comment or change in the future should circumstance change or information prove to be inaccurate for any reason. Additionally, the Company makes every effort to comply with all applicable laws.
Contact:
Oxford City FC Public Relations
info(at)oxfordcityfc(dot)com