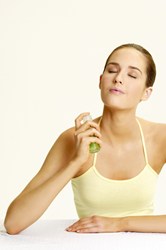 Miami, FL (PRWEB) July 26, 2013
Earlier this month, ABC.com released information on a Japanese study which involved using probiotics to spark weight loss. While the results from the study showed some of the patients in the trial were able to decrease their amounts of visceral fats, many resources are still debating using probiotics as a weight loss method. Probiotic Action, a leader using probiotics for acne and founder of the all natural acne remedy, shares industry insight on how these germs may be helping to promote weight loss, aside from being a natural acne treatment.
While many use probiotics to reduce inflammation in the intestinal tract, probiotics have been known to help balance bacteria levels and help break down intruders to the body system internally and externally. When ingested, probiotics live in the intestinal tract of the consumer and aid in the breakdown of food, the balance of good and bad bacteria that may lead to sickness, and may aid in the metabolic process. The claims that probiotics may help weight loss may hold true in some individuals, since the tiny germs have the ability to block and break down certain foods, chemicals, and bacteria that the body alone may not be able to do.
"The benefits of using probiotics for weight loss, preventative medicine, or as a natural acne remedy are still to be fully discovered," says Probiotic Action spokesman, Fernando Perez. "Since probiotics have the power to break down toxins that may linger in the body system, it makes sense that they may be able to help break down fats and oils that clog the system internally in the gut which cause fat, and on the skin which cause breakouts. For now we are fortunate to be able to test the results without fear to the body since probiotics are naturally occurring, until full results are proven, it doesn't hurt to add probiotic supplements to one's weight loss regimen," added Perez.
For more information on the capabilities of probiotics and how they may increase weight loss, see the rest of the ABC article here: For more information on the power of probiotics and their use as a topical acne treatmen t, visit probioticaction.com.
Probiotic Action is an advanced acne treatment that uses probiotics for acne containing the "good bacteria" that is naturally found on healthy human skin. By using probiotics, Probiotic Action is an effective treatment that restores the normal bacteria content on skin, while battling what causes acne. Probiotic Action will successfully clear skin when used as an adult acne treatment while protecting skin against bad bacteria, free radicals, and pollutants*.
*These statements have not been evaluated by the Food and Drug Administration. Probiotic Action is not intended to diagnose, treat, cure or prevent any disease.