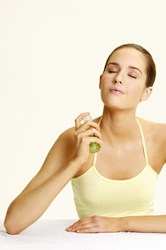 Miami, FL (PRWEB) July 24, 2013
Earlier this month, the University of Cambridge, New Zealand released information on ongoing studies involving women and the use of probiotics to fight depression. Researchers are claiming that probiotics may be able to help reduce the inflammation in the brain which has been linked to increasing levels of depression in women specifically. Probiotic Action, best known for their probiotic acne treatment for use as a natural acne remedy, explains how probiotics may help fight the causes of depression, and in turn help reduce acne symptoms.
Some may argue that acne causes depression, while others argue that depression may cause acne. While researchers are unable to determine which comes first in each individual case, information has been linked to the increased production of acne causing bacteria and body chemicals when the mind is under stress. Since researchers claim that inflammation in the brain may be a cause/link to depression, using probiotics preventatively to reduce inflammation ( as they do in the gut) may help bear some weight in the fight against depression, and what causes acne.
"While the research has not be concluded yet as to whether or not probiotics have the ability to reduce inflammation in the brain, using probiotics internally as a pill or supplement, and externally as topical probiotic, may do more than reduce intestinal strain, and acne symptoms just on chance alone," says Probiotic Action spokesman, Fernando Perez. "If we can project that probiotics have already proven to reduce inflammation in the gut and topically on the skin, perhaps using them to target brain inflammation, we may find a cure, or at least an all-natural way to fight depression emotionally, and as an acne trigger," added Perez.
For more information on the Cambridge University study, see here. For more information on the use of probiotics for acne, visit probioticaction.com.
Probiotic Action is an advanced acne treatment that uses Probiotics for acne containing the "good bacteria" that is naturally found on healthy human skin. By using probiotics, Probiotic Action is an effective treatment that restores the normal bacteria content on skin, while battling what causes acne. Probiotic Action will successfully clear skin when used as an adult acne treatment while protecting skin against bad bacteria, free radicals, and pollutants*.
*These statements have not been evaluated by the Food and Drug Administration. Probiotic Action is not intended to diagnose, treat, cure or prevent any disease.